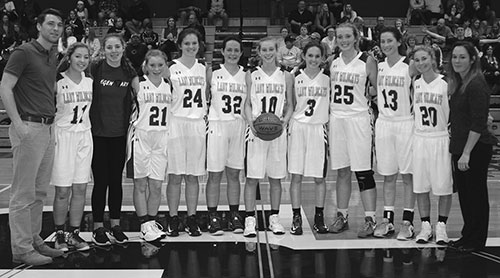 South's Cranford Earns Career Milestone of 1,000 Points Scored

By Kelly Bledsoe
kellybledsoe@triad.rr.com

Senior Hannah Cranford joined South's elite 1000-point club in the third quarter of the West Montgomery game last Tuesday. Entering the game at West Montgomery Hannah was only 13 points away. She sank 2, 2 pointers and 1 three in the first quarter for 7 points, had 2 more from the floor and 1 from the free throw line to go into the locker room at the half with 12 points—just 1 more to go…with a little less than two minutes into the third quarter she not only got the 1,000, but hit 1,002 point mark by draining the three from the wing. Coach Frizzell notes, "That is probably the spot where she has scored a majority of these 1,000 points." She finished the night with her second consecutive game of 22 points!

As a freshman Hanna scored 202 points, 336 as a sophomore and 405 as a juniors. This season began with Hannah only needing 57 points to reach this milestone. It is not surprising to anyone who has watched Hannah play that she reached 1000 points so early in the season.

Hannah says that scoring 1000 points has been a goal of hers since freshman year, but it was only at the end of her junior season that she realized it was possible as she wrapped up the season with 943 points.

In middle school Hannah remembers being inspired when Larsen Sigmon got her 1000 point ball. "She was the first point guard South Davidson has had in awhile to reach 1,000 and she inspired me to do the same thing once I got to high school."

Hannah parents, Benjy and Lisa Cranford, are once again very proud of their daughter. "She has made another of her dreams a reality. She has worked very hard the last four years on and off the courts and we look forward to seeing what the future holds for her."

Coach Kim Frizzell is also very proud of Hannah and her commitment to the program at South and to the dedication she has to the team. Hannah is a great role model and a true leader and, "When she is hitting nothing is impossible."

Coach Frizzell believes Hannah's achievement is indicative of the type of athletes South Davidson produces. Hard working driven athletes who honor the game. This is the second year in a row that South has recognized a thousand point athlete.

When Hannah hit 1002 she felt relieved and was then able to relax more and concentrate on the game. "I felt so much pressure being released from me. It was the best feeling though, once I hit the last shot to reach 1,000. It seemed unreal, like I was in a dream." The referees stopped the game in recognition and congratulations, but the real celebration took place at last Wednesday's home game against West Davidson. The hometown crowd recognized Hannah's accomplishments after the game while family, coaches and friends surprised her with a small reception.

Hannah knows that she could not have reached this milestone without the help and support of her coaches and teammates. "My coaches and teammates always had confidence in me, and knew that I could do it. They helped me become a better and stronger player throughout my high school career. My teammates fed me the ball and gave me great opportunities to get some easy buckets."

Congratulation, Hannah…we too look forward to seeing what the future holds!