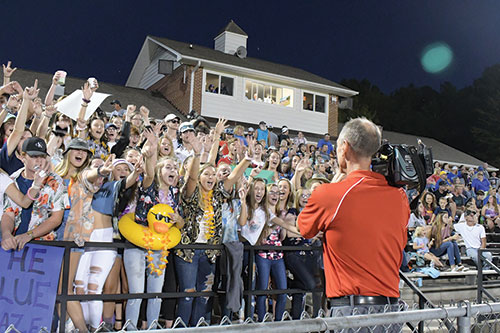 Friday night Football
Wildcats in the house!

Football Recap
Submitted by Coach Hill

The Wildcats traveled to West Davidson on Friday, August 30th. The first quarter started out good with a solid defensive stand. On West Davidson's second drive Isaiah Ramsey forced a fumble on the Dragons 30 ending the first quarter.

On the first play of the 2nd quarter Damon Hill completed a 25-yard pass to Anthony Gerena setting up a 2-yard touchdown run by Ramsey. Keith Davis added a field goal. The Dragons answered back on a drive to score, and first play back on offense. Hill and Ramsey had a bad exchange and West scooped and scored. On the next drive South was 4th and inches but got stuffed giving West a short field to score on. The teams entered half-time with the score 21-7 West.

In the second half South just couldn't get the offense going and defense gave up a couple of big plays ending the game 35-7. Ramsey lead the defense with 7 solo tackles, 6 assists and a forced fumble. Hill went 4 for 5 with 41 yards passing. Ramsey rushed 11-31 with 1 touchdown. Keith Davis 6-28 with a field goal.

The Wildcats hosted Central Davidson Friday, September 6th. Central is a big rival and a team South has not played in several years and the community was ready to see it go down. One of the largest crowds I have seen in Briggs Stadium, it was packed.

The game started good with both teams scoring quickly. Ramsey on a 60-yard run and Drye with the field goal. We had some good drives and some good defense at times, just couldn't get consistent. Cabrera did a good job at quarterback and everyone played their hearts out never giving up. We put together another drive after we forced a fumble and Ramsey scored on a 1 yard run and Drye added another field goal. Unfortunately, we put the ball on the ground 4 times and the Spartans scored on each of those. If you shoot yourself that many times the outcome is not going to be good.

Leading rushers were Ramsey 23 carries for 165 yards, 2 touchdowns. Davis had 10 carries for 24, and Chris Drye kicked two field goals.

Hopefully we can put together a full game against Carver this coming Friday. I am extremely proud of these guys. They never give up, just keep battling, and we are getting better. Our kids just have to remember these other schools have had their offense in for several months and our kids have only had 5 weeks of practice due to our late start. We start JV against South Stanly in three weeks so that will help us also. I believe in you and I love you guys (BROTHERHOOD)!