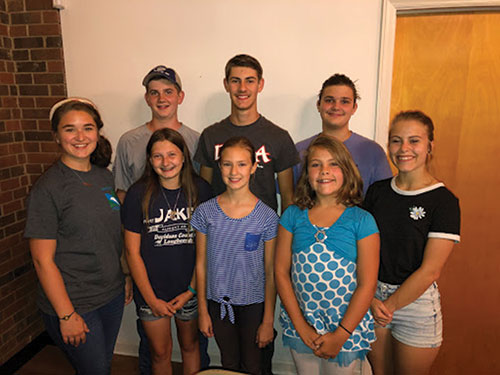 Cedar Springs 4-H recognized for achievements at 4-H State Congress

By Alex Pope, Cedar Springs 4-H reporter

Cedar Springs 4-H Club was well represented at NC State 4-H Congress held at NC State University this past July. State Congress is the culmination of the 4-H year where new officers are installed, Honor Club members are inducted, and 4-H'ers compete for trips and presentation championship medals. All 4-H'ers also participate in community service on the state level.

Sydney Loflin and Deanna Mitchell were installed as two of the four district officers for 2019-2020. Loflin will be serving as president and Mitchell as vice president of the North Central District, which is comprised of 20 counties.

Also being recognized at NC State 4-H Congress were two individuals who earned the highest honor in North Carolina 4-H program, induction into the NC 4-H Honor Club. Less than .5 of all state 4-H'ers achieve this honor each year. This year Alicia Greer and Carter Gordon were installed in the Honor Club in candlelight ceremony held at the McKimmon Center. Greer and Gordon were recognized for their outstanding leadership, citizenship, and community service over their 4-H careers.

Cedar Springs had three members to receive an all-expenses paid trip through the Application, Interview, Resume, and Essay (AIRE) program. Nathan Gobble will be representing the state at the National Conference in Washington, D.C. while Josiah Scarlett and Deanna Mitchell will be attending National Congress in Atlanta, Georgia.

At NC State 4-H Congress 4-H'ers from across the state compete in state championship presentation finals for bronze, silver, and gold medals. Those competing at the state level have competed on the local level and gone on to win silver or gold at the district level. Cedar Springs 4-H had eight members to present in the state competition representing the North Central District. Sydney Loflin won Gold in Family and Consumer Sciences, age 14-18; Josiah Scarlett was awarded Silver in Careers and Entrepreneurship, age 14-18; Nathan Gobble earned Gold in Forestry and Wildlife, age 14-18; Deanna Mitchell won Silver in Health, age 14-18; Emily Gobble achieved Bronze in Horse, age 11-13; Clarissa Mitchell competed in Science and Technology, age 14-18; Breanna Mitchell earned Gold in Hospitality, age 11-13, and Maryanne Scarlett competed in the Small Companion Animals category, age 11-13.

Jackson Greer also attended State Congress as a voting delegate representing Davidson County. For more information about Davidson County 4-H, contact 4-H agent Matt Barber at 336-242-2086.