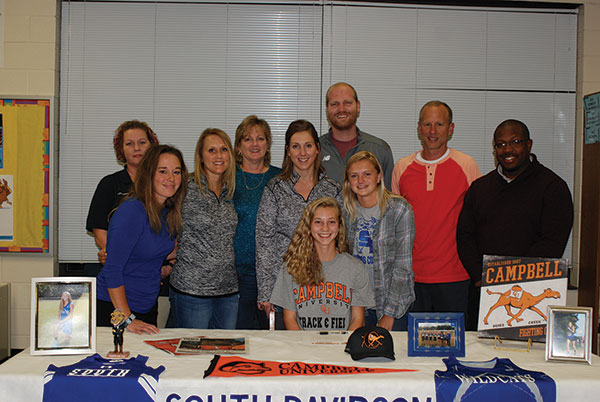 Hannah Cranford Signs With Campbell University

Kelly Bledsoe
kellybledsoe@triad.rr.com
At the end of the homestretch of her high school running career at South Davidson High School, Hannah Cranford has signed a national letter of intent with Campbell University.
The Wildcat senior has enjoyed a highly decorated cross-country career taking All Conference, All County, All Region honors in the 9th, 10th, 11th and 12th grade. She was All State her junior and senior years and was the Conference Champ in 10th, 11th, and 12th grade and County Champion in 11th and 12th grade. Hannah was named Conference Runner of the Year as a sophomore and junior and MVP each season.

What makes Hannah's success even more spectacular is that for most of her high school career she was the only member of the women's cross-country team forcing her to train with the guys. Her coaches praise her as "one of the best female 1A runners in the State, year in and year out dominating nearly every competition."

Hannah is a multi-sport athlete achieving success not only in cross-country but also on the basketball court as well as on the track taking conference, county and state honors. She was the Conference Champ in the 800 meter and 1600 meter races (9th, 10th, 11th grade) and County Champion in the 800 meter and 1600 meter races as a junior.
Looking back on her career Hannah says, "When I moved up to high school I was focused on playing basketball; cross country and track and field were not really a focus. Going into my sophomore year, I began to take running more seriously, by training over the summer. Going into my junior and senior year, I put a hard focus on track and began to see this could be my future in college. It was a difficult decision to not pursue basketball at the college level, but found it to be the right decision for me."

The daughter of Benjy and Lisa Cranford, Hannah is a scholar athlete and served as Junior Marshall. Her parents say, "We are proud of Hannah and all of her accomplishments thus far. She has worked very hard both academically and athletically. We look forward to seeing what her future holds and are excited about her going to Campbell University." She has kept a rigorous schedule oftentimes competing in two sports a season participating in AAU Basketball as well as AAU Indoor Track and Field where she qualified in the Junior National last summer while maintaining a high GPA. She is also an active member in Junior Civitan, HOSA, FCA, FFCLA, as well as a member of the National Honor Society and the National Technical Honor Society.

Hannah plans to enroll in the pre-vet program at the Division I college in Buies Creek with plans to become a veterinarian fostered by her love of animals. She interned at Denton Animal Hospital last year, which became a part-time job for her

"I feel really blessed," Hannah says of the opportunity to attend Campbell on an athletic scholarship. "The recruiting process was a difficult but fun process, I got to meet awesome people along the way by touring and meeting college coaches and athletes. I am excited about what my future holds with Campbell and Coach Kelly. I felt Campbell to be the right fit for me and my running goals, but more importantly my academic goals and integrity.

"Hannah has put a lot of time in," says South coach Mary Stegall. "She's committed to strengthening herself. She does what she's got to do and I am very excited for her to continue her running career at the collegiate level.

When Hannah gets to Campbell she hopes to make an immediate impact on the team. Her true passion is running and she looks forward to becoming part of The Camel running family.