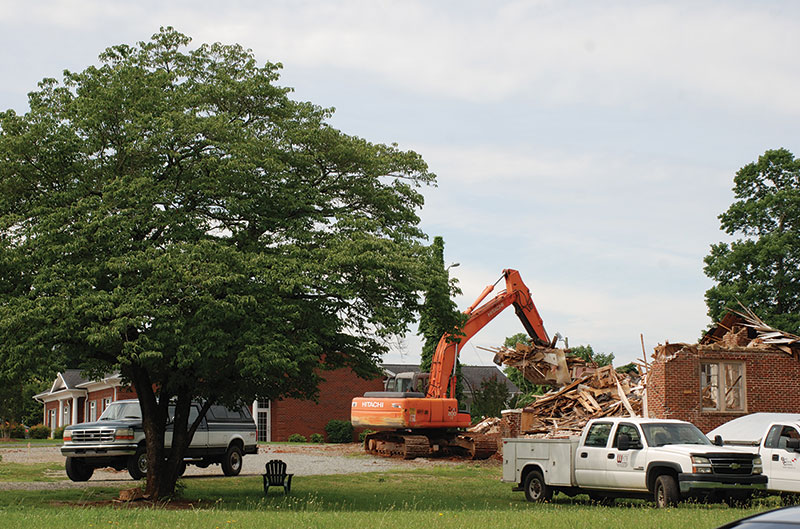 O'Reilly's Auto Parts Coming to Denton
O'Reilly's Auto Parts is coming to Denton. The new auto parts store will be built at 17896 NC Hwy 109 Denton, NC just across the street from Denton Drug and adjacent to First Bank. Demolition of the former building began place last week and the site is currently being prepared for construction to begin. The store is expected to open in early fall.
---
Antiques Festival Returns to Denton
By Kelly Bledsoe
kellybledsoe@triad.rr.com
Since 2012 people flock to Denton, NC, for the annual Antiques Festival, a shopping extravaganza that compliments the annual Southeast Old Threshers' Reunion, held at the Denton FarmPark. This year's Antiques Festival starts Friday, June 30 and runs through Tuesday, July 4. Past photos give you a teaser of the treasure-hunting experience just around the corner.

This year's festival will take place in the same locations as the previous years. Harrison Park, the Denton Community Farmer's Market will serve as the venue for antique enthusiasts and collectors. William Bisher is also renting out spaces at the Snider House if anyone is interested.

Each year the festival attracts a vast crowd into the community and this year more than 30 vendors will descend upon a half-mile stretch of downtown Denton for roughly a week providing residents and visitors alike a unique shopping/collecting experience.

Interim Town Manager, John Gray notes, "As the Town prepares for its fifth Antique Festival, it's appropriate to recognize folks like Randy Cook who volunteers his time helping vendors find space in the Festival's several downtown locations. Both vendors and visitors alike remark on how much they enjoy the Antique Festival. It gives visitors enjoying the nearby Thresher's Reunion another attraction located in a genuine small town with friendly people to check out vintage collectibles while enjoying 'down home' country cooking in our restaurants and shop in our unique stores. The final plus for a number of our local businesses is that they see increased traffic and sales as a result of the Antique Festival. It's a great week all the way around!"
Vendors will set up shop in the park, the farmers market and along N. Main and Salisbury St. creating a plethora of incredibly creative displays. There is no telling what you may find and every day provides a new treasure hunting adventure.

"Antiques" is perhaps a loose term, as the merchandise also includes crafts, and flea-market-type curios. Unsurprisingly given the number of dealers, the variety of items is staggering: pottery, old bottles, rifles, jewelry, cash registers, signs, license plates, glassware, china and cutlery, glassware, toys, and furniture from various eras. And that's a mere sliver of the offerings.

The atmosphere is laid back with vendors swapping stories and taking time to visit with customers. For more information, you may contact the Town of Denton at 336-859-4231, or Randy Cook at 336-561-1009.

Again, the event will run Friday, June 30 through Tuesday, July 4 from 7:30 a.m. until 6:00pm. Harrison Park is located at the intersection of N. Main and Salisbury Streets in downtown Denton with the Denton Community Farmer's Market directly across the street.

Johnson Park is located on Salisbury Street directly across from Briggs Funeral Home.

You just never know what you might find and whom you might run into. So make sure you stop by and let the adventure begin!