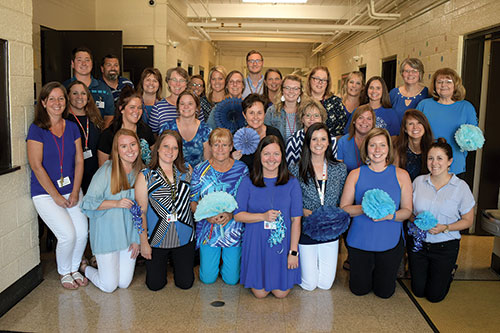 Celebrating 50 years of service to the Healing Springs rural fire district
By Kelly Bledsoe
kellybledsoe@triad.rr.com
The Healing Springs Volunteer Fire Department established in 1967 is celebrating 50 years of service. The department is a volunteer based organization that provides emergency fire suppression and emergency basic life support for the Healing Springs Rural Fire District and surrounding community. Last week they celebrated this milestone during the 4th Annual Community Day, and they will continue to celebrate this achievement at the Annual Community Board Meeting set for Tuesday, October 17 at 7:00pm at the Healing Springs Fire Department. All Healing Springs property owners are encouraged to attend and in honor of this milestone a meal will be provided for property owners in the HSFD District.
In addition to these events current Fire Chief, Chris Bean, and fellow officers invited three of the Charter Members to record for posterity how the fire department was formed and some of the earlier trials and tribulations, as well as successes of the HSFD.

Bill Rogers, Marion Grubb and Monroe Snyder reminisced about the early days of the department. Bill Rogers was the first chief and in addition to Grubb and Snyder the other original members of the fire department included Richard Beck, Cecil Bivens, A.E. Clark, Melvin Hademan, Worth Newsom, Jimmy Russell, Lawrence Buie, Charlie Blanchard, Taylor Cottrell, Marvin Kinney, H.J. Parker, James Spoon, Vernon Tysinger, Leo Buie, Lawrence Carrick, Paul Cole, C.M. Laughridge, J.E. Rogers, Aaron Shaw, James Weddington, Luther Buie, Clifton Carrick, Billie Lewis, Tommy Rogers, V.K. Skeen, and Charlie Wilson. The original Board of Directors was A.E. Clark, President; Charles Wilson, Vice-President; Billie Lewis, Secretary; and Sonja Grubb, Treasurer.

The original "department" was located across the street from the current location in a building Delores Carrick allowed them to use. They had one fire truck that they paid $500 for, which held 500 gallons of water after they replaced the tank. Prior to this people in the community had to get word to the closest fire department for help and communication was always an obstacle.

The need for a local fire department and better equipment was obvious and these three men were instrumental in getting the community involved to start the building process of what is now the Healing Springs Fire Department. They held BBQ's, bakes sales, and turkey shoots to raise money. They even cleaned the cones at Surratt Hosiery Mill to raise money. Their wives and other women in the community formed the Ladies Auxiliary in 1968, which was important to the fundraising efforts. The original members of the Ladies Auxiliary included Dot Carrick, Charlotte Owens, Elsie Rogers, Ann Beck, Mattie Newsome, Luna Clark, Jessie Owens, Pauline Cole, Libby Rogers, Sonja Grubb, Veliz Buie, Wilmateen Hademan and Essie Mae Parker. Bill Rogers knows first hand how important it was to get the women involved saying, "We couldn't have done it without them."

During the course of its 50 years, the fire department has seen many changes. In the old days each man bought his own turn out clothes. They communicated via CB radios and the fire trucks were always in need of repair and lacking water volume. In fact, Marion recalls running out of water at the first house fire he fought. Ironically Marion's current home is built at the site of that first house fire.

Bill Rogers recalls the time they were heading back from a fire off Hwy 49 when the engine blew. Rogers said, "It just so happened that Lawerence Carrick had an engine and everyone started gathering parts and by daybreak we had a new engine installed. From midnight to sunrise we rebuilt that truck."
Monroe Snyder recalls the night the mountain caught on fire and how the whole community came together. "It was a lot of hard work, it took days…we've come along way."

The three gentlemen along with the other 30 volunteers worked 52 straight Saturday's laying brick for the new fire station. There were many obstacles and a few set backs but finally in 1970 the handsome new three bay fire station opened its doors and has continued to faithfully serve this community.

In the past 50 years there have been generations of families who have given of their time and talents to help provide fire and rescue coverage to the citizens of the Healing Springs community. The dedication and commitment of these volunteers enables them to respond to emergency situations with a number of well-trained individuals at any time, day or night. The membership currently has 32 active firemen with 18 individuals certified at a level of Firefighter II, and contains 12 certified EMT's. They currently maintain and operate 12 fire and rescue service vehicles and average greater than 300 calls for service each year. This is a far cry from where the department started 50 years ago with one truck carrying 500 gallons of water. The Ladies Auxiliary is still hard at work promoting and supporting the fire department. Current members include Shannon Bean, Cassie Buie, Brandi Pope, Mandy Cottrell, Joy Gallimore, Megan Skeen, Sonja Grubb, Ann Snyder, and Jennifer Brunk.

Fire Chief Chris Bean says, "The department is always looking for men and women who would like to volunteer to help protect others property and lives to help carry on the tradition. If you are interested in this rewarding opportunity please contact any fire person and they can help you through the process of becoming a trained member. The current officers are Chief Chris Bean, Deputy Chief Tommy Carrick, Assistant Chief David Pope, Captains John Pate and Michael Sexton, Lieutenants Jeff Buie and Scott Askew, and Safety Officers Walt Kruger and Chris Morris.

Thank you to all the former and current firemen dedicated to protecting life and property in our community and fire district through your dedication and professional delivered fire prevention and emergency services.

---
Hannah Cranford wins second straight county championship
Surratt finishes runner-up surpassing former record
By KellyBledsoe
kellybledsoe@triad.rr.com
Hannah Cranford took home first place honors last Thursday at the Davidson County Championship Cross Country Meet. Hannah ran the course at Denton FarmPark in just 19:20 beating runner-up Kassidy Everhart of North Davidson by 21 seconds. Melissa Avalos completed the course in 21:32 placing 21st, and South's other runner Lauren Hulin finished 28th with a time of 23:26.

On the men's side Brent Surratt finished runner-up just on the heels of Jordan Howerton of Ledford who set a new county record time of 15:46. Surratt's own super fast time of 15:48 also surpassed the former record. Everett Rhymer finished 26th running 18:22, Hayden Hicks came in 44th with a time of 20:56 and Jackson Ellington placed 45th with a time of 21:58.

Coach Mary Stegall is extremely proud of these runners and the personal improvements they have made over the season. She looks for South to perform well at the conference meet on October 17 also to be held at the Denton FarmPark.