,
Faculty, Teachers & Students prepare for Back to School
By Kelly Bledsoe
kellybledsoe@triad.rr.com
The smell of new planners, pencils, and composition books is in the air — it's almost time to start a new school year!

To make the most of the upcoming school year, it's best for teachers, parents, and students to plan ahead. Taking the time to plan for the first day of school means fewer headaches for teachers, fewer morning battles with sleepy students for parents, and a positive attitude for students who are ready and eager to learn.
Teachers and faculty at our South Davidson schools have been preparing all summer for the start of the 2018-2019 school year and they are anxious for their students to return. Each of our four schools have planned orientations and meet the teacher nights to help make the transition into the new school year run smoothly. As usual there have been some staff changes as well as certain procedural changes, but the anticipation of another exciting school remains the same.
At Silver Valley Elementary School, Principal, Christy Slate, welcomes new Assistant Principal Lorrie Varner and a new counselor, Allyson Underwood. Meet the teacher will be August 23rd from 4-6pm. Kindergartners will receive an appointment time in the mail. Also if there are any students still needing to register for school - they need to come on in! Silver Valley's school theme this year is a Sports Theme - TEAM (Together Everyone Achieves More)
A system wide change for elementary schools this year include new hours. Both Silver Valley and Denton Elementary Schools will operate under new hours with school beginning at 8 am and running through 2:35pm.

Denton Principal, Dr. Kelsey Greer, also welcomes Lorrie Varner as Assistant Principal. Libby Ferrell joins the DES staff as Media Coordinator, and Dolly Fields is the new AIG teacher. There are two new third grade teachers, Holly Fine and Tammy Koontz. Joining the first grade team is Ashley Fisher and Misti Money will be teaching fourth grade this year.

DES "Back to School Night" which includes Open House and Meet the Teacher is set for Thursday, August 23. There are two sessions (NOT floating) — 4:30-5:30 or 6:00-7:00. Families will meet the new Assistant Principal, meet their teacher, pay the $7.00 school fee, get bus information, sign up for Free & Reduced Lunch, receive curriculum information for the upcoming school year, and will have opportunities to sign up for SDYS fall sports, girl scouts, and lots more! Parents are also welcome to bring and drop off their school supplies on this night.

New at Denton Elementary this school year:
- 5 minutes have been added the school day, so we will now dismiss at 2:35. Students can be dropped off starting at 7:00am, school day begins at 8:00am, and dismissal will now be at 2:35.
- We have a new school policy regarding lunch visitors. Parents and visitors may start coming to have lunch with students after the first 2 weeks of school (starting Sept. 10). And then at the end of the school year, the last day parents may come and visit for lunch will be 2 weeks before the end of the school year (last day will be May 24).
- Reminder that we do not accept transportation changes after 1:30pm
- Reminder that we do not allow early dismissals after 2:00pm

At South Davidson Middle School, Principal Crystal Sexton is very excited to start the school year off with no new hires. She and her team of dedicated teachers are eager to continue the progress they have made in the past years, and Ms. Sexton is very excited for her students to return.

Sixth grade orientation is set for Thursday, August 23 at 6:30pm. There will be a program for sixth grade students and their parents to provide information for a smooth transition into middle school. Seventh and eighth grade students will be able to pick up their schedules anytime between 4-6pm on August 23. School supply lists are posted on the school website as well as the SDMS Facebook page.

At South Davidson High School Principal Brandi Reeder is still finalizing her staff. She is also extremely excited to begin the new year and continue the tradition of Wildcat Pride! Freshman orientation is set for Wednesday, August 22 from 5:30-6:30pm. SDHS will have open house on September 12 from 6:00-7:00 and all parents are encouraged to attend to ensure their child's continued academic success. The daily schedule at SDHS will now begin at 7:55 and end at 3:08. Ms. Reeder would like to remind her returning students and inform her rising freshman, "At SDHS it is ALWAYS a GREAT day to be a WILDCAT!"

The first day of school for students is Monday, August 27. Parents are encouraged to stay involved in their students academic success by volunteering, attending open houses and other events, and by visiting the school's Facebook and school websites and teacher portals.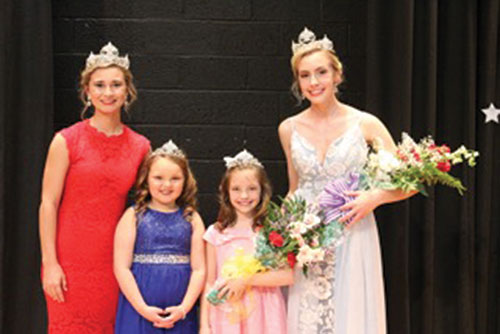 Miss Denton and Little Miss Denton are Collecting School Supplies
As a community service project Miss Denton, Lauren Surratt, and Little Miss Denton, Jayden Loflin, are collecting school supplies for Denton Elementary, and Silver Valley Elementary Schools. The drive is sponsored by The Denton Lions Club, because Lauren and Jayden wanted to make a difference in the community and help students get all the supplies they needed for a successful beginning to their school year.

Supplies needed include notebook paper, pencils, crayons, markers, glue sticks, folders, backpacks, binders, rulers, scissors etc.

You can drop off school supplies at the following local businesses and churches: The Rock Garden, The Village, The Denton Orator, First Baptist Church (Denton), Community Baptist Church (SV), and the Pentecostals of Denton.