Town of Denton Memorial Day Service

The Town of Denton is hosting a Memorial Day Service Monday, May 27 at 5pm in Harrison Park. This is a reverent service honoring those who gave the ultimate sacrifice. A FREE Hot Dog cookout will follow the service sponsored by the Town. A Classic Car Show will take place before from 3-6pm in the parking lot behind Harrison Park. In case of rain, updates will be posted on the Town website, wwwtownofdenton.com and the Facebook page, https://www.facebook.com/TownofDentonNC/.
---
Tour de Kale
20 Years and Still Rolling

By Kelly Bledsoe
kellybledsoe@triad.rr.com
In 2000, eight individuals set out to organize a bike ride benefitting their good friend, Kale Watkins, who endured a life altering accident. Twenty years later TDK has evolved into one of the most well-executed fund-raising events for hardship medical cases in the Denton, NC community. With over 200 volunteers, TDK continues to bless this community with life changing financial assistance. To date, TDK has given $850,000 to individuals and families during their time of need. The impact of such a gift is hard to explain; perhaps words are not even appropriate. What speaks volumes, however, are the actions of this community. The TDK family continues to grow as nearly every former beneficiary and/or family member returns the following year to lend support to the organization. The continued dedication of volunteers speaks volumes about the town and the people of this community.

The organizers of Tour de Kale have decided to look to the future of TDK and agreed to make a change for the coming years substituting a new event in place of the bike ride. A severe decline in the number of road cyclists is a major factor in this decision. At this time organizers are seeking input from the community, sponsors, as well as participants for the new direction of TDK. Everyone is encouraged to share ideas and thoughts on the future of TDK via Facebook https://www.facebook.com/tdkdenton/ or online at tourdekale.com.

While the future of TDK holds lots of opportunities, the focus this year, as always, is to execute one of the finest bike rides/run in the Southeast and support this year's beneficiary, Randy Chappell.

The 20th Annual Tour De Kale will commence June 15. All cycling events will start at 8am at Denton FarmPark, no staggered start. Running events will take place at Harrison Park at 8pm. Participants can register at tourdekale.com. Information on registration or becoming a sponsor can be obtained by visiting the website at www.tourdekale.com, by emailing info@tourdekale.com, or by calling the TDK hotline at 336-313-9544.

Don't miss the opportunity to ride in the final bike ride of TDK and remember: this is not an end, but the beginning of a new chapter for Tour de Kale.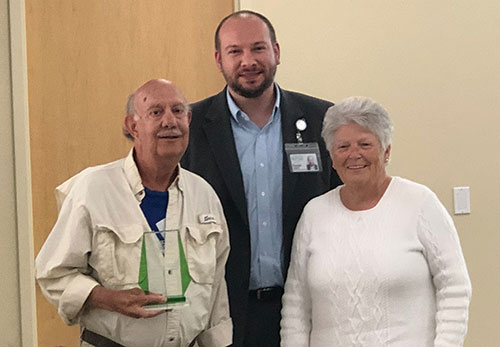 HOSPICE OF DAVIDSON COUNTY CELEBRATES 10TH ANNIVERSARY OF HINKLE HOSPICE HOUSE
Annual Board Awards Also Presented at Event

Hospice of Davidson County celebrated the 10th anniversary of the Henry Etta & Bruce Hinkle Hospice House at its annual donor recognition event.

Recognizing the growing needs for Davidson County residents, the nonprofit broke ground on the only inpatient hospice care facility in Davidson County in August 2007. The 12-bed inpatient unit officially opened in February 2009 and has served more than 2,900 patients and families since.

"We are honored to be caretakers for the Bruce and Henry Etta Hinkle Hospice House," said Hospice of Davidson County CEO Laura Owen. "For many years, we saw Davidson County residents having to access inpatient hospice care outside of our county. Due to the generous support of our community, we're honored to be celebrating the 10th anniversary of this remarkable facility.

"On a personal level, on multiple occasions my family has received services at the Hinkle Hospice House. The warm and comforting environment of the facility and of the staff provided a supported experience that we will forever be grateful for."

Additionally, Hospice of Davidson County Board of Directors President Daniel James, presented the agency's annual board awards.
Receiving the Founders Award were Joyce and Monty Oliver for their more than 10 years of support, making contributions of their time and resources positively benefiting the agency.

In addition, Younts Insurance received the Community Partner Award for its decade of support through event sponsorships, staff volunteer time, advocacy and continued involvement with Hospice of Davidson County.

In 2018, Hospice of Davidson County served more than 900 individuals in the Piedmont Triad with the agency's various programs and services including providing more than $55,000 in charity care for patients in need of end-of-life care.

For more information Hospice of Davidson County, visit hospiceofdavidson.org or Facebook.