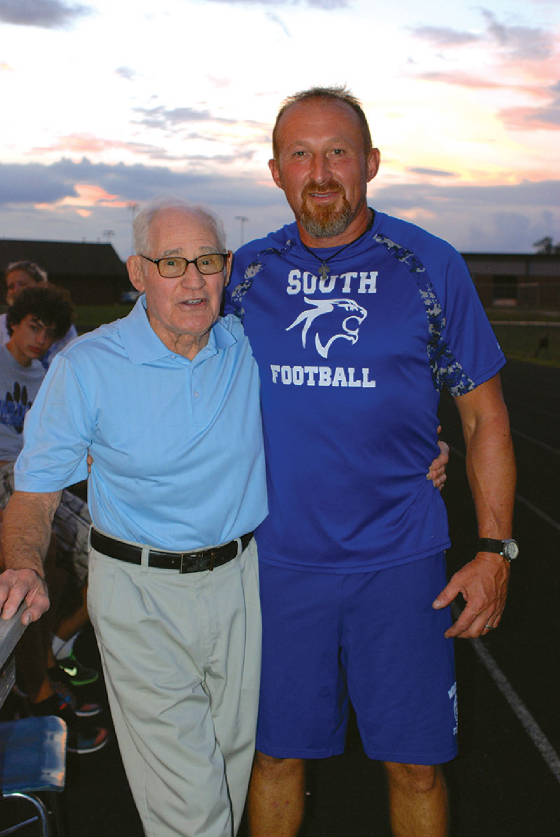 Long-time South Davidson football assistant Tim Hill takes Wildcats' head coaching job
By Kelly Bledsoe
kellybledsoe@triad.rr.com
Tim Hill has taken the "assistant" part off his title as South Davidson football coach. The longtime assistant to several coaches, the latest being Chad Ellington, has been named the Wildcats' new head coach.

Ellington, resigned on May 31 opening the position and Tim Hill has been overseeing the summer program since his departure. He and his players are in the gym five days a week conditioning and preparing for the upcoming season.

Hill, a 1986 graduate of Denton High School has been with the Wildcat football program for the last 14 years, mostly working with defensive backs and receivers.

Newly appointed South Davidson Principal Kevin Hudson stated, "Hill brings a wealth of football knowledge and experience to our football program. His passion and enthusiasm for the game is contagious. Our student-athletes are fortunate to have him as their next head coach."
Hill has spent the last 25 years coaching from little league to high school always putting the kids first. Hill says he learned the importance of putting the kids first from his former coach and mentor Coach Hayes. Hill understands the importance of building relationships with his players and earning their respect. A constant on the sideline Coach Hill has a great relationship with the student athletes, parents, staff, and community and the lessons he learned from Coach Hayes have come full circle.

Coach Hill has passion for the game that is evident through the enthusiasm he has accepted this position, and started planning for the fall. He hopes to establish a JV program that will ease the transition from middle school ball to high school. Understandably this won't happen right away but Hill recognizes the need in order to sustain the program.

"It's a new challenge," Hill said of the head job. "I am honored and humbled to have been selected. The players and other coaches have put in a lot of time and I am excited to be a part of where Wildcat football is going. I'm ready to get started."

Hill and Principal Hudson are currently working on the logistics of the coaching staff and he is anxious to finalize his coaching team. "We are a little behind other schools given the late coaching assignment, but we have had a good turnout for summer practice and several players have already contacted me letting me know they are in and ready to play for me."

Hill has been heavily involved with South Davidson athletics and his dedication to the players, the school and the community will prove valuable as Wildcat football works to regain momentum.

"We got kids coming back but we have some positions to fill," Hill said. "I hope anyone interested in putting on a helmet will join us as we continue summer workouts July 22 through July 31 (M-F) from 6:00-7:30. Official practice begins August 1.

As Coach Hill embarks on his new endeavor, he can still hear Coach Hayes' words from 1983, "No prize is greater than the effort it took to achieve it."
---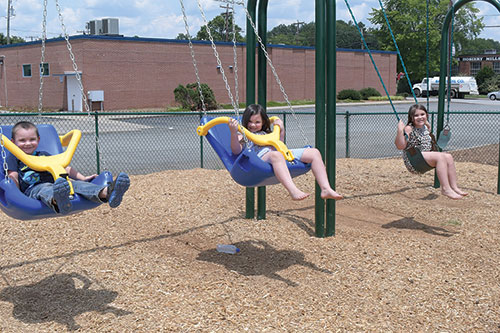 Just a Swingin'…

Thanks to the Town of Denton and the Town of Parks and Recreation Board a new swing set has been installed at Harrison Park.According to Parks and Recreation Chairman Tina Lanier, 'This is 1 of several tangible items that we agreed to fund with Parks and Recreation funds in place of hosting the Pyrate Invasion this year." Other improvements and enhancements include the new water fountain (with doggie bowl at base) partly paid by the Woodmen of the World, and the new Doggie disposal bag stations that have been installed as well.

Other tangible items that Parks and Recreation members are working on include partnering with Davidson County to install two new sets of bleachers at Bombay Park. The Town of Denton Parks and Recreation is also funding the cost of a new shade awning at the Splashpad for shade for families enjoying the splashpad (DC is to install it).

DC P&R Director Thomas Marshburn indicated board members at a recent meeting that Bombay Park was the most visited park in Davidson County in 2018!

Pictured above Kloe, Zoey and Luke Harmon enjoy the new swings in beautiful Harrison Park.