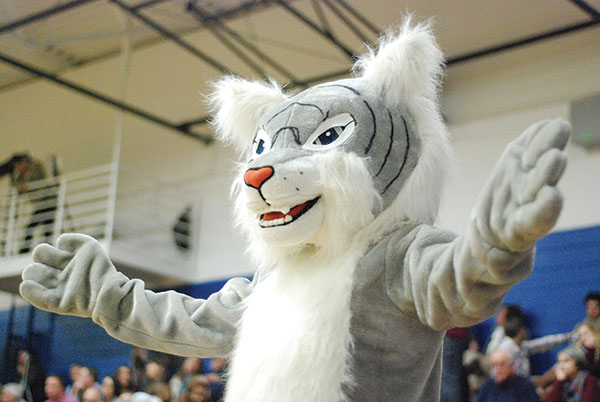 Wildcats in the house...
SDHS Boosters purchased a new score table and Wildcat Mascot costume "Boosting" Wildcat pride. The athletes, coaches, students, staff, administration and all the 'Cats in the house are so thankful...Go South! Check our pics on etc.
---
'
New Year, New Clients
Welcome to South Davidson Family Resource Center
With this New Year, we are hoping to take on new clients! Coming to a Food Pantry for help for the first time can be difficult for anyone. We want to make your experience as pleasant as possible. We hope this brief explanation of our services will help.

Each month, an average of 150-200 individuals and families, for a total of around 450-500 people in their households, visit our Food Pantry and Clothes Closet for free groceries, gently used clothing, and other supportive services. To be eligible for complete food distribution, we will ask you to write your name, address, and the number of people living in your household on the TEFAP form at the front desk, confirm that your income is below the limits established by the USDA, complete a short application form and show official photo identification and mail, such as a utility bill, as proof that you reside within our service area.

A staff member will review the information you provided in your application and help you complete your registration as a South Davidson Family Resource Center client. You will also have the chance to ask any questions you have about our agency and the services we offer. A Resource Center volunteer will then assist you with your groceries from the Food Pantry and clothing from the Clothes Closet.

Every family is allowed to come to SDFRC once each calendar month for our food distribution program. After completing your enrollment as a client, you will receive food and clothing that same day. We have a wide variety of canned and packaged goods such as meats, fish, soup, vegetables, fruit, juice, rice, beans, pasta, cereals, and bread. Because balanced nutrition is important, we carry a wide variety of fresh produce – items such as apples, oranges, bananas, lettuce, carrots, potatoes and onions. And, whenever possible, we include fresh meat, poultry, and dairy products including milk, eggs, yogurt, and cheese. We are also occasionally able provide furniture, appliances, blankets, fans, pet food, and personal care items such as soap, shampoo, toothpaste, lotion, laundry detergent, and diapers for babies and adults.

Although the free grocery distribution brings most people to SDFRC for their first visit, you will learn in the Resource Center about other programs and services and where we may be able to provide referrals. In addition to referrals to other agencies and community programs, we schedule professionals to come here who provide services such as Food Stamp Renewal/ Enrollment. We also have various events and fundraisers. We offer a summer backpack program for families with kids out of school to receive extra food and Easter dinner fixings. We also take applications for holiday gifts for senior citizens (The Giving Tree) and provide a Seniors Christmas Dinner each year.

If you, or someone you know, needs help with any or our services, please call or stop by our office. We are currently located at 338 W. Salisbury St. Denton, NC and our service hours are Mon-Wed 8:30am-12noon and also the third Tues each month in the evening from 4:30pm-7pm. Phone: 336-859-5399