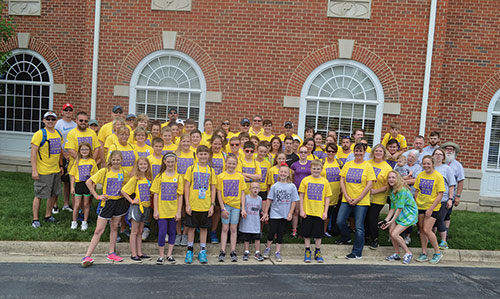 Team M2 JDRF High Point Walk 2018
By Kelly Bledsoe
kellybledsoe@triad.rr.com
Team M2 is gearing up for the annual JDRF 5K walk to be held April 28, 2018. Once again the walk will take place at Pinnacle Financial Partners in downtown High Point located at 801 North Elm Street. Registration is at 12:00am and the walk begins at 1:00pm. Because, the only way to help kids with Type 1 Diabetes is to find a cure, and the key to finding a cure for Juvenile diabetes is research. By participating in the JDRF Walk and JDRF events, you can help too. Throughout this past year these families have participated in many events to raise money and give hope to those with T1D.

This year Team M2 wants to take big strides to raise money for the JDRF. The Denton Gameroom will be have a big weekend fund raising event on Saturday, April 21, from 11:00am – 12:00am and on Sunday, April 22, 1:00pm – 8:00pm. The proceeds from the patrons playing video games and other activities will be donated to Team M2. We want to invite everyone to come out and have some good family fun to support our team for the JDRF Walk. You can find out more by going to the Denton Gameroom Facebook page https://www.facebook.com/dentongameroom/ and view the events.

Also, on our Team M2 Facebook page, https://www.facebook.com/teamm2m/, you will find a Sign Up button that links you to the High Point One Walk Register page. From there you can join our walk team to help us raise money for the JDRF to support life-changing breakthroughs like the "artificial pancreas." Madison West now has this device combination that is considered the "artificial pancreas." It is an insulin pump and a Constant Glucose Monitor (CGM) that communicate to each other to constantly monitor and adjust insulin pump levels based on reported blood glucose levels every 5 minutes. Madison's mom, Vicki West, has also been put on the same "artificial pancreas" pump monitoring system.

Last year we had 76 team members for Team M2. We are shooting for 100 this year. We raised $3,806.00 last year. Come out and show your support.