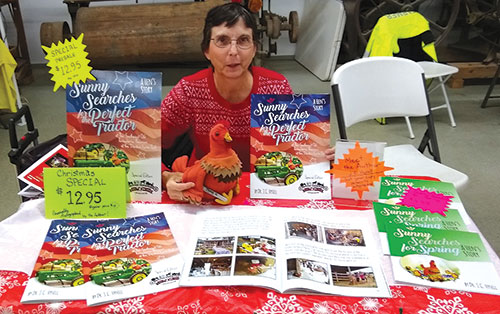 Pentecostals of Denton to Build a Church in a Day
By Kelly Bledsoe
kellybledsoe@triad.rr.com
It may sound hard to believe, but on October 4th, 2019 over 300 people from around
North Carolina and North America will converge in our town to build The Pentecostals of Denton sanctuary. In 24 +/- hours, they will raise a 3000 square foot church building complete with an auditorium with seating for around 100 people, 2 Sunday School classrooms, completely furnished restrooms and a foyer.

All utilities, heating and air conditioning, complete furnishings, that's right, completely finished! Church in a Day is a nationally sponsored program of the United Pentecostal Church, International. Church In A Day (CIAD) assists congregations in building new church buildings - all in a single day. With CIAD, a church can greatly reduce the building costs, and most importantly, goes from an empty lot to a service-ready sanctuary.

The construction will begin at daybreak on Friday and end with church service on Sunday. This is truly an amazing feat and a wonderful opportunity for young churches. Pastor Ronnie Timmons is grateful for the opportunity and emphasized what a big community event this is. The church will literally be built in a day right down to the landscaping. Timmons said there will be a lot going on all at once. "Kind of like a NASCAR pit crew," he said. Of course there is much work going on now in preparation for the big day. They broke ground on June 27, clearing the lot and surveying the placement of the church. The plans have already been submitted and approved, the foundation will be in place, and prefabricated walls will be ready for the build on October 4.

Clinton Snider will serve as the General Contractor along side of talented and experienced local carpenters as well as a national team of volunteers who specialize in building a church in a day. Everyone is encouraged to join in the fun and volunteers of every skill level are needed and welcome.
Over 150 Church in a Day projects have been done nationally by the UPCI and the Pentecostals of Denton will be the fourth one built in North Carolina. In order to be eligible for the Church in a Day program young churches must own the property. The Pentecostals of Denton will strategically place the structure on the land as they plan on future additions.

The church encourages any member of the community, skilled or unskilled, to take part in this once in a lifetime event. The Church in a Day program is designed to give young churches a facility much earlier than would normally be possible.
Crews will be working around the clock and volunteers are needed to assist skilled professionals, run errand as well as man the food tents. If you are interested in volunteering visit www.pentecostalsofdenton.org.

Hailey and Hannah Helping Hands
Sisters raise money to pay off school lunch debts

By Kelly Bledsoe
kellybledsoe@triad.rr.com
Hailey and Hannah Hager have been featured in numerous newspapers for their outstanding efforts to raise money to pay down the school lunch debt in Davidson County. The girls began by tackling their own schools debt and have since worked towards paying off all the lunch debt at all the schools in Davidson County.

When this journey started, the school year had just finished up with a countywide school lunch debt of slightly over $43,000 with now approximately half remaining.
The sisters, along with the help of their mom Erin Hager, began selling lemonade to reduce the lunch debt at their own schools Southwood Elementary and Central Davidson Middle School.
The goal of using the lemonade stand to help offset the girls' schools debt, thanks to the local encouragement along with awareness through Hailey and Hannah's Helping Hands Facebook page and the news media, has far exceeded to covering many other lower debt schools with the higher ones remaining, Denton Elementary School being one of them.

What's the saying? When life gives you lemons, you make lemonade, and that they have. This amazing accomplishment would not be possible without everyone's support and encouragement. The girls and their family wish to express their gratitude to not only the local community and businesses but also to those nationwide; thanks to MSN.Com setting up an online donation option that has now generated $4,000 and single donators. It is everyone's efforts that have gotten them to this point.
It is clear that everyone sees the issue at had and wants to do something to help and would like to see the remaining $18,000 covered before school starts, letting every child start the new year with a clean slate.
If every member of the community just gave one dollar all of our students and schools could start the new school year free of lunch debt.

Both Hailey and Hannah have devoted a good amount of time helping various charitable organizations and raising awareness though their efforts. According to their grandmother Arlene Baxley, "The girls have never expressed what they have thought about all the media attention, we are all just overwhelmed. Hailey being the more reserved one did say she just wishes they, (those asking questions for their segments), knew the real her."

Arlene goes on to say, "I know Hailey to be very kind and compassionate to everyone, not afraid to extend herself to those that may be 'different' that often times in the school system can set us apart to be bullied ourselves. So she herself is not afraid to be different, she is proud to be who she is using the positive moral qualities she has learned as one of Jehovah's Witnesses to assist others. This has given her many friends that have joined her in her spiritual activities as well as the lemonade stand. Whereas Hannah, even though exhibiting those same qualities, does it with a more outgoing spirit taking after her mom, Erin."

Even with the new school year fast approaching, the girls still believe they can reach their goal of all schools being debt free. With your help it is possible to cover the higher schools remaining balances. If you can help with Hailey and Hannah's mission please bring donations The Denton Orator.
Their mom, Erin Hager, is doing what she can to keep everyone abreast on the girls progress through Facebook. Please check them out on their website www.haileyandannahshelpinghands.com or Facebook at https://www.facebook.com/groups/HaileyandHannahsHelpingHands/.
Making a difference matters. Paying it forward is it's own reward. Hailey and Hannah are true inspirations proving that no matter how big or small human kindness and helping others is what really matters.