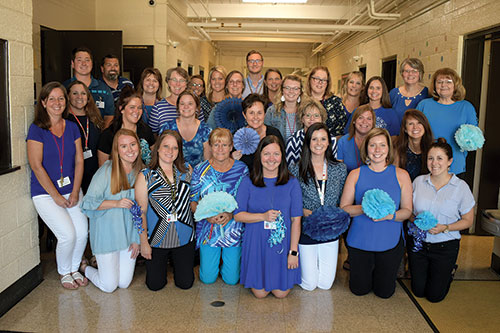 Report Cards are out,
DES is in the

BLUE
By Kelly Bledsoe
kellybldsoe@triad.rr.com

Last week school systems throughout Davidson County found out how well they performed last school year when the N.C. Department of Public Instruction released the North Carolina's Schools 2018-2019 Accountability.

Denton Elementary received their growth and accountability results Exceeding Growth for the first time ever at Denton. In fact, DES had the highest growth index out of all of the 18 elementary schools in Davidson County. This is a very big accomplishment.
In accordance with the color on the statewide chart for such growth faculty and staff dressed in blue last Friday to celebrate this wonderful achievement.

According to DES Principal, Dr. Kelsey Greer, "This is SUCH a huge accomplishment for our school, and my teachers and students deserve to be celebrated. I am so proud of them and they have worked so very hard over the last several years to make steady, sustainable progress to get these results."

At Denton Elementary school 90% of the students made growth during the 2018-2019 school year, and the school tripled its growth index from last year.
These results do not happen without strategic and focused work on the part of all the teachers and administrators. The dedicated staff at Denton Elementary continues to put students academic needs and social well being at the forefront of their agenda. As Dr. Greer tells her staff, "We are doing the right work!"

From here…to there a Labor of Love
Newly Renovated South Davidson Family Resource Center in Denton opens its doors

By Kelly Bledsoe
kellybledsoe@triad.rr.com

For many years, the Griffis Clinic, located at 292 South Main Street sat vacant. That is until Doctors Felizardio and Florita Mangundayao graciously donated the Griffis Clinic to become the future home of the South Davidson Family Resource Center.

After two years of relentless work, fundraising events, grant writing, favors and several miracles the newly renovated Griffis Clinic has opened its doors as the new home of the South Davidson Family Resource Center.

The center's grand opening celebration and visitation will be Sunday, September 15 from 2-4pm. Everyone is invited to come and visit the beautiful "new" facility and learn more about the services SDFRC provides.

SDFRC charter board member Leroy Hinesley has been instrumental during the renovation efforts. Hinesley said, "The Griffis Clinic is truly an iconic landmark in Denton and I am honored to help preserve not only the building but also its history while at the same time expanding the South Davidson Family Resource Center."

Following Hinesly's vision Sonja and Marion Grubb have devoted an incredible amount of time and resources into the renovation efforts. They have diligently spent every free moment working in whatever capacity necessary to make this vision a reality.

SDFRC Director John Shelton has also played a key role in the renovations and is extremely excited to open the doors of the center to the community. To define exactly what the resource center will do, Shelton stressed, "It is a resource for the community where parents and their children, can come for support, learn about structured programs, and receive help during times of need, all for free in a relaxed environment."

As executive director Shelton will continue to oversee an organization that connects hundreds of families with community resources that support their most basic needs, such as the emergency food pantry, Weekend Backpack Program, Clothing Closet, and Emergency Financial Assistance.
SDFRC staff members Linda Cook and Patty Morris are long time advocates for the center and have played a major roll in the renovation and relocation process. They have continued to diligently serve the citizens of Southern Davidson County hroughout all the chaos of relocating the center and their efforts are greatly appreciated.

The list of volunteers who have helped is endless and the number of community members who have supported the renovation effort is countless. Resource members would like to thank everyone who supported this project and special thanks to Jesse Rowe, Claudie Harrison, Neil Snider as well as all the businesses who promoted and supported this cause.

SDFRC is a non-profit agency, incorporated in 1998, with a goal of providing services and resources to the disadvantaged population and families in crisis in southern Davidson County. SDFRC is the only social services organization totally dedicated to serving the citizens of Southern Davidson County. The agency is funded through several means including grants and special funding as partners with United Way, as well as with other federal and local agencies.

Notably the Griffis Clinic has touched the lives of nearly every family in Denton proven by the outpouring of support from community members and volunteers. The SDFRC staff and board members want to thank every individual who played a roll in the miraculous renovation of the center. It is remarkable to think that the "clinic" continues to serve the families of Denton and Southern Davidson County, and founders, former owners, and families of "Griffis Clinic" are intensely proud that the building will continue to be used as it was originally intended: to serve the residents of this community!

More information about the South Davidson Family Resource Center can be found at http://www.southdavidsonfrc.com/services/services.htm, or visit the facebook page at https://www.facebook.com/SDFRC1/ or call 336-859-5399. Better yet, stop by the new office at 292 South Main Street in Denton. SDFRC is open Monday, Tuesday and Wednesday from 8:30am-12 NOON. All services are FREE.