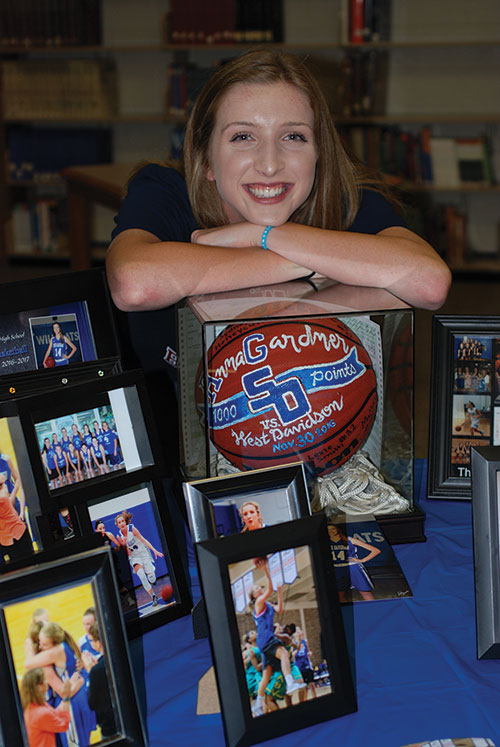 Gardner makes it official
By Kelly Bledsoe
kellybledsoe@triad.rr.com
South Davidson guard/forward Anna Gardner signed with Catawba College last Wednesday evening, following an outstanding senior season in which she won conference Player of the Year honors, led her team to become Conference Champions, and scored her 1,000th point.
Gardner began her senior season at South Davidson as a returning All-Conference performer on a team expected to defend its Conference title, which they profoundly did. She ended her senior year with a total of 1,435 points, shooting 81% from the free throw line, 500 rebounds, 224 blocks and 100 assists. During her career at South Anna started in 99 games, always with a determination and a will to win. She has grown into a true leader, elevating the players around her with her selflessness and dedication to the game of basketball, always giving the hometown crowd plenty to watch!
Anna's parents are extremely proud of her. Dad, Kevin Gardner believes Catawba is a good fit for his daughter. "She is a small town girl, with small town values, and I see the connection between where she is from and where she is going. It's going to be good for her and I couldn't be more proud. She has worked very hard to get where she is." Mom, Carol Gardner, remembers when Anna began playing sports at 4 years old. "I am so proud of her… it's hard to believe she is graduating High School. I am looking forward to seeing her play and grow at the next level. Words can't express how grateful I am to our community that has supported her throughout her HS career. Anna amazes me daily with her drive to excel not just in sports but academically as well. It will be tough next year not seeing her and her sister Mallory on the court together, but I can't wait to see what Catawba holds for her."
This season Gardner displayed an all-around game better than she ever had before. During the course of the season she averaged 18.1 points per game leading the conference. She also led the conference in assists averaging 3.7 as well as leading in blocks averaging 4.1 per game. She was 3rd in conference for rebounds averaging 6.8 and 5th in conference for steal with 2.6 per game. But her greatest accomplishment according to Head Coach Kim Frizzell, was her ability and willingness to teach her teammates. Frizzell stated at the signing ceremony, "Anna was not in it for Anna, she was in it for the Wildcats, her teammates and her community. There were many occasions where I witnessed her take a younger more inexperienced player aside, and explain to her a better way to run a particular play. She was always teaching others as evidenced in the number of assists she had for the year, she had faith in her teammates and gave them the opportunity to learn."
Going into her final season at South Davidson, the dream of playing at the next level was somewhere in the back of her mind, and she worked hard to make it a reality. Although it wasn't until just recently that she decided to play at the next level, Anna was not just a "gym rat" as her travel Coach Charles Sterling put it. Anna played other sports, volleyball in the fall and soccer in the spring. "She has a sense of community and did not put all of her focus just on basketball, but Anna is a "Scorer" and a player that all coaches want to have on their team."
The only thing that Anna might want to change about her senior season was the ending, when South lost in the final round of the Central Tarheel 1A Conference Tourney to Rival West Montgomery. Still, it was a 22-3 season that featured more successes than disappointments. Anna ends her career at South Davidson with the following accolades: All Conference All four years, All Conference Player of the Year 2017, All Davidson County three years, All My Davidson Sports, All District for District 7, Team MVP every year, Team Speaking Captain last two years, New Bridge Bank Christmas Classic All Tournament Team, 1,000 point milestone, finished with 1,435 points for SD career, third in all time scoring for South Davidson, NCHSAA Scholar Athlete, Scholar Athlete of the Month for Davidson County, 80 Career Wins with 99 Starts. Look out Catawba…here comes Anna!
---
2017 JDRF "If We Only Had a Cure"

Team M2 is gearing up for the annual JDRF 5K walk to be held April 29, 2017. Once again the walk will take place at Bank of North Carolina in downtown High Point located at 801 North Elm Street. Registration is at 9:00am and the walk begins at 10:00am.

By participating in the JDRF Walk and JDRF events, you can help too. Throughout this past year these families have participated in many events to raise money and give hope to those with T1D. They have attended numerous walks and have encouraged others through their commitment and success of Team M2.

There are two ways to join Team M2, Go to the team M2 Facebook page, click on the Sign Up button which will take you to the JDRF High Point Walk Page, or follow this link: http://www2.jdrf.org/site/TR/Walk/PiedmontTriadChapter4477?pg=entry&fr_id=6636.

Team m2 is looking for sponsors in the following categories: Gold $500, Silver $250, Bronze $100, and Friends $25-75. If you would like to be a sponsor contact Jason West at 906-2481 or email jwest@triad.rr.com. Don't delay…make your commitment today!

When it comes to fighting Type 1 diabetes, there is strength in numbers. So, get your walking shoes laced, your legs stretched and come out and join the fun!