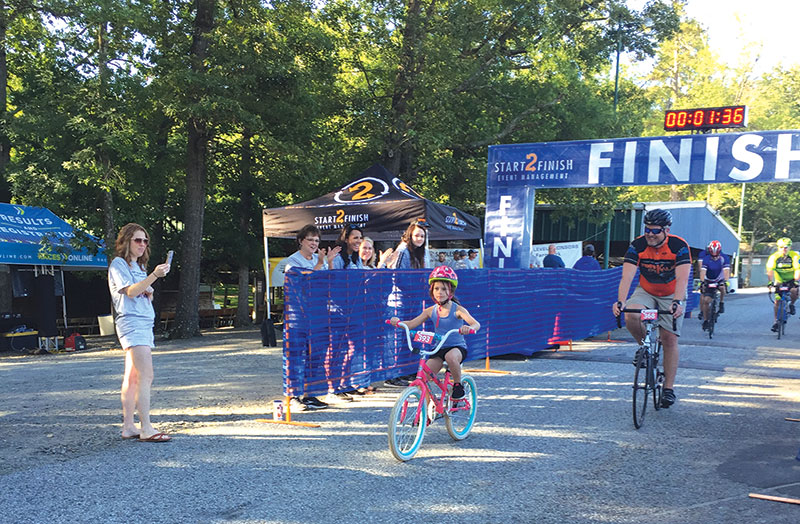 TDK 20th Anniversary is Saturday 20 years and still rolling…
By Kelly Bledsoe
kellybledsoe@triad.rr.com
The 20th celebration of Tour de Kale is set for Saturday. As always volunteers and friends have been hard at work finalizing all details to ensure that the ride/run is executed to perfection. On Saturday morning participants from all over the southeast will meet early at the Denton FarmPark in what seems to be more of a family reunion than a ride. After 20 years participants and volunteers have established lifetime friendships and the good vibes are what keep TDK rolling.
With over 200 volunteers, TDK continues to bless this community with life changing financial assistance. To date, TDK has given $850,000 to individuals and families during their time of need. The impact of such a gift is hard to explain; perhaps words are not even appropriate. What speaks volumes, however, are the actions of this community. The TDK family continues to grow as nearly every former beneficiary and/or family member returns the following year to lend support to the organization and the generous sponsors continue to support TDK year after year. The continued dedication of volunteers and sponsors is the essence of TDK's success.
Karen Pierce, whose brother was the recipient in 2012 had this to say, "Prior to the 2012 TDK, I was a 'spectator.' That all changed when my brother was chosen as a recipient of one of the greatest benefits around. TDK has greatly impacted our family. So much, in fact, that we have returned every year since to try and just give back a little of what was given to our brother. We regret that he passed before the event and was unable to see just how much our community cared for him. However, we are so thankful that we were present to witness the outpouring of love and concern shown by TDK and all of our amazing volunteers. TDK is a highlight for our family each year. Before volunteering we had no idea just how much work and dedication goes in to such an event as TDK. We are grateful to be just a tiny piece of the puzzle that has for 20 years been such an enormous benefit to so many in our beautiful community. May God bless every hand and every heart who so graciously give to those in need."
Past recipients include:
2000 Kale Watkins
2001 Ricky Harris Family: Michael and Mark
2002 "Punkin" Leslie Gallimore
2003 Neal Morris & Raleigh Ward
2004 Jessica Cook
2005 Chip Peacock & Kale Watkins
2006 "Punkin" Lelsie Gallimore & Jimmy Lanier
2007 Billy & Ryan O'Quinn & Kelly Lambeth
2008 Nancy Towery & Sherry Glover
2009 Chris Singleton & Sherry Glover
2010 Missy Dean & Courtney Chriscoe
2011 Sidney Absher & Todd Nance
2012 Charles Shoaf & Jimmy Martin
2013 Elisha Skeen
2014 Steve Peele & Wendy Martin
2015 Gabriel Davis & Drew Hill; Raffle Mike Irby
2016 Brandon Boyles & Mary Eason Hughes
2017 David Owen & Toby Brady
2018 Brandon "Red" Soles & Brad Anderson
2019 Randy Chappell
Kale Watkins, namesake and first recipient, remembers the impact of being a beneficiary. "The money helped me get on my feet…I couldn't do what I did without the financial support of the organization. But I also gained so much more by being involved in a charitable organization…it shows you how good it is to give."
Tim Hill, father of Drew Hill the 2015 recipient, was also greatly affected by TDK. " I grew up being friends with Kale, playing sports, and I didn't really know a lot about TDK. I knew they helped people in need with a bike ride but that was about it. Until in 2015 someone nominated my son to be the recipient. Honestly I felt obligated to help since they were doing it for Drew, and I was totally unprepared for what I found out. It's not just a few people getting together and taking up money, but a whole community and county coming together taking time out of their lives to help another in need. Ever since I helped out that year I will continue to donate to Tour de Kale. I can guarantee there is not another community with as much love for other people than ours, and I am so very honored to be a part of it."
However, none of this would be possible without the support of the amazing sponsors. Year after year individuals and businesses continue fund the event, with the majority of them being 20-year sponsors. This years sponsors include:
Flagship Sponsor: Loflin Fabrication

Platinum Sponsors: Denton FarmPark, High Rock Hosiery, The Springs

Gold Sponsors: First United Methodist Church, Canaan United Methodist Church, Chapel Hill United Methodist Church, The Denton Orator, Larry Furr Enterprises, Lee Compton, RP & Penny Hughes, Watkins Farm & Marine, Deric & Melisa Skeen, Springs at High Rock, Grounded for Growth Yoga, John & Margaret Herke, Hurley Backhoe Services, Skeen Printing & Packaging Solutions, LLC, BEEM, LLC, WORX

Silver Sponsors: Cheerwine, Denton Lions Club, First Bancorp, Price Realtors, Ultra-Mek, Inc, Century Hosiery, John & Sara Grice, NH Med, Steve & Lisa Grubb, Lineberry United Methodist Church, Nathan & Dawn Johnson, Village Restaurant/Cagle Sawmill, Ronnie & Virginia Harrison, Andrea & Darryl Duncan, Tracey & Rhae Auman, Greg & Faith Bryant/Remax Central Realty, Randy's BBQ Friends

Bronze Sponsors: Gary & Michelle Gallimore, Pallet One, Denton Medical Center, Mike & Genie Russell, Walter Floyd, Josiee Lynch, Kevin Wall Surveyor, Imogene Morris, Norman Hunt, Jim & Judy Boggs, Jeff & Joy Gallimore, Loflin Seed & Grain, Flowers by Patty, Eugene Fine & Candy Bean, Ben Woodberry, Beefy's Furniture, Odie's Auto Sales, Tonya Johnson, Thermo Pride, Paul & Vicki Mitchell, Pansy Hunt Properties, Precision Buildings, Rock Garden, Barnes Printing, Denton Wesleyan Church, Futrell Brothers, LLC, Ronnie & Suzanne Gallimore, Scott's Electric.

This Saturday marks the last bike-riding event for Tour de Kale. The organizers of Tour de Kale have decided to look to the future of TDK and agreed to make a change for the coming years substituting a new event in place of the bike ride. A severe decline in the number of road cyclists is a major factor in this decision. As one of the original organizers of TDK, Chris Skeen understands the importance of redirecting TDK to ensure it's future success. "TDK has always been an exceptional event with the best volunteers and sponsors, ensuring a level of execution to do it right." Although sad to see the bike ride end, everyone agrees that change is good and they are excited to see what the future holds for TDK. At this time organizers are seeking input from the community, sponsors, as well as participants for the new direction of TDK. Everyone is encouraged to share ideas and thoughts on the future of TDK via Facebook https://www.facebook.com/tdkdenton/ or online at tourdekale.com.

While the future of TDK holds lots of opportunities, the focus this year, as always, is to execute one of the finest bike rides/run in the Southeast and support this year's beneficiary, Randy Chappell.

Randy is a 64-year old man who has lived in Denton all his life. He has been a truck driver for CT Durham Trucking for 11 years. Before that he worked for Hedrick Brothers Lumber and David Harris.

The 20th Annual Tour De Kale will commence this Saturday, June 15. All cycling events will start at 8am at Denton FarmPark, no staggered start. Running events will take place at Harrison Park at 8pm. Participants can register at tourdekale.com. Information on registration or becoming a sponsor can be obtained by visiting the website at www.tourdekale.com, by emailing info@tourdekale.com, or by calling the TDK hotline at 336-313-9544.

Town commissioner Barbara Hogan has been a TDK volunteer since the beginning. She also had a nephew who was fortunate enough to be a TDK recipient. Her thoughts some up the epitome of TDK, "This organization gives such comfort and relief…this community rally's together and provides financial assistance during times of great stress. But the truth is TDK is a family that supports one another and it makes you just feel good to be a part of it."

Don't miss the opportunity to join this amazing family and ride in the final bike ride of TDK and remember: this is not an end, but the beginning of a new chapter for Tour de Kale.
---
Antiques Festival Returns to Denton
kellybledsoe@triad.rr.com
Since 2012 people flock to Denton, NC, for the annual Antiques Festival, a shopping extravaganza that compliments the annual Southeast Old Threshers' Reunion, held at the Denton FarmPark. This year's Antiques Festival starts July 2nd and runs through July 6th. Spaces are available for a minimal fee, 10x20 $10 and 20x20 just $20. Interested vendors should contact Town Hall at 336-859-4231.

This year's festival will take place in the same locations as the previous years. Harrison

Park, and the Denton Community Farmer's Market will serve as the venue for antique enthusiasts and collectors.

Each year the festival attracts a vast crowd into the community and this year more than 30 vendors will descend upon a half-mile stretch of downtown Denton for roughly a week providing residents and visitors alike a unique shopping/ collecting experience.

Denton Mayor, Larry Ward notes, "I feel that the Antiques Festival has become one of the best town sponsored events bringing visitors from all showcasing our town."

Vendors will set up shop in the park, the farmers market and along N. Main and Salisbury St. creating a plethora of incredibly creative displays. There is no telling what you may find and every day provides a new treasure hunting adventure.

"Antiques" is perhaps a loose term, as the merchandise also includes crafts, and flea-market-type curios. Unsurprisingly given the number of dealers, the variety of items is staggering: pottery, old bottles, rifles, jewelry, cash registers, signs, license plates, glassware, china and cutlery, glassware, toys, and furniture from various eras. And that's a mere sliver of the offerings.

The atmosphere is laid back with vendors swapping stories, playing music and taking time to visit with customers. For more information or to secure your space, you may contact the Town of Denton at 336-859-4231.

Again, the event will run July 2nd through July 6th from 7:30 a.m. until 6:00pm. Harrison Park is located at the intersection of N. Main and Salisbury Streets in downtown Denton with the Denton

Community Farmer's Market directly across the street. Johnson Park is located on Salisbury Street directly across from Briggs Funeral Home.

You just never know what you might find and whom you might run into. So make sure you stop by and let the adventure begin!