Town of Denton Community Open House - Comprehensive Land Development Plan

Piedmont Triad Regional Council invites you to the Town of Denton Community Open House to hear your input on a comprehensive land development plan. The open house will take place on Wednesday, February 15 from 6:00 pm – 8:00 pm (drop in) at Denton Town Hall located at 201 West Salisbury Street in Denton.

A Comprehensive Land Development Plan is used by many cities as a reference tool in terms of depicting a vision for future growth of the city or town in terms of land development. The plan provides facts and a framework gathered from demographic data and conveys service growth factors/areas. The meeting is an opportunity for residents and business owners to review the draft Land Development Pan and provide suggestions.

For more information, contact Jesse Day at jday@ptrc.org or Anna Leonard at aleonard@ptrc.org or by phone at (336) 904-0300. Visit the project online at http:www.ptrc.org/denton.

---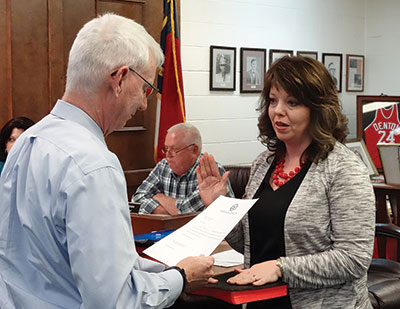 Denton's New Town Clerk Sworn In

By Kelly Bledsoe
kellybledsoe@triad.rr.com
Denton's' new town clerk took her oath of office during the council's meeting last Monday. Angel Jenkins was hired to replace Genie Russell, the former town clerk, who recently retired. The town Board of Commissioners welcomes Angel and looks forward working with her in the coming years.

"We're excited to have her thoroughness and detail-orientedness in the clerk's area," Town Mayor, Larry Ward said. "Angel is extremely customer focused and we hope she will stay with us for many years."

Jenkins has spent the last few months working with the former clerk to make sure the transition went smoothly. Ms. Jenkins is a graduate of East Davidson High School in Thomasville and has her Associates degree in Accounting from Stanly Community College. She has 20 years of accounting and financial work experience as a bookkeeper, office manager, retailer, accountant and insurance reimbursement specialist in Albemarle, Charlotte and Asheboro.
Jenkins is already making great stride in her new position. She notes, "As the new Town Clerk of Denton, I am honored and humbled to serve this amazing community. I would like to thank the Mayor, our Commissioner and the Town Manager for giving me this opportunity. Whether someone has lived here their whole life or just a short amount of time, it isn't long before people make you feel like you belong. I am grateful for the chance to serve such a great town. I look forward to meeting and assisting the needs of the wonderful people in Denton."