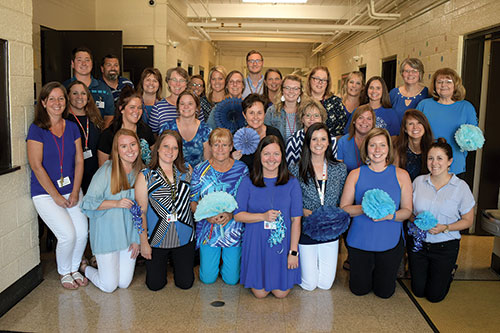 .
Fugitive Apprehended in Denton
On May 17th, 2017 approximately 3:30 PM the Denton Police Officers responded to a call of three subjects trespassing and possible drug activity at a vacant building located at 311 N Main St. in Denton. When officer's arrived on scene two suspects, one male and one female, fled on foot. A third suspect remained on scene. She was compliant and taken into custody immediately by Officer Allen.

Chief Hicks ensued in a foot pursuit with the suspects. While attempting to place the male suspect, later identified as Samuel Justin Rambo 26 of Denton, under arrest he became combative. While Chief Hicks and the suspect were on the ground in a physical altercation the suspect kicked Chief Hicks in the hand causing a fracture to one of the bones. With assistance from Officer Allen the suspect was detained. Chief Hicks was treated and released at Wake Forest Baptist-Lexington Medical Center.

The suspect was handcuffed and left with another officer while Chief Hicks assisted Officer Allen in locating the fleeing female. Upon arrival of Davidson County EMS the officer sitting with the suspect had his attention momentarily diverted when asked by EMS where the injured officer was. The suspect then took advantage and fled again. Sgt. Furr quickly located the suspect fleeing up North on the railroad tracks. The suspect continued to resist by failing to comply with Sgt. Furr's verbal commands and fled into a wooded area. At this time a K9 Unit was requested due to the suspect being in a residential area with many homes.

Davidson County Sheriff Department deputies arrived on scene with the K9 Unit. The K9 lead deputies and Officer Allen to a residence on West Second St. in Denton. The officers located the suspect in a crawlspace and he was commanded to come out from under the structure at least six times before sending in the k9 unit to retrieve him.

He was apprehended a short time later and taken to Wake Forest Baptist-Lexington Medical Center where he was evaluated and released. He was then placed in Davidson County Jail, charges are as follows: 1 count Misdemeanor 2nd degree trespassing, 3 counts misdemeanor resisting a public officer, 1 count Felony assault with physical injury to a detention employee, 1 count misdemeanor breaking and entering, 2 counts Felony probation violation, 1 count misdemeanor trespassing on railroad property, 1 count misdemeanor 1st degree trespassing, 1 count misdemeanor assault on Government Official, 1 count misdemeanor larceny and 1 count Felony Extradition/Fugitive from other state. He was held on a $600,500.00 secured bond with a court date scheduled on June 5th, 2017.

The female that fled, later identified as Robin Leanne Byerly Rambo 26 of Denton, was apprehended by Officer Allen. She was placed under arrest and charged with 1 count misdemeanor 2nd degree trespassing and 2 counts misdemeanor resisting a public officer. She was also served with two outstanding warrants for 1 count misdemeanor 1st degree trespassing and 1 count misdemeanor larceny. She was held on a $5500.00 secured bond and is scheduled to appear in court on June 5th, 2017.

The female that stayed on scene and complied was identified as Donna Lynn Woodief Rambo 39 of Denton. She was charged with 1 count misdemeanor 2nd degree trespassing and received a $500.00 secured bond. Her court date is also June 5th, 2017.
---
Memorial Day in Denton: a Small Town Celebrates
You do not not have to go far to celebrate Memorial Day. The Town of Denton is hosting a Memorial Day Service, Monday, May 29 starting at 5:00pm in Harrison Park. The event will begin with opening remarks from Denton Mayor Larry Ward, followed by a brief history of Memorial Day also delivered by Mayor Ward. Michelle Timmons from the Pentecostals of Denton will perform special music, and Reverend Richard Blount of Central United Methodist Church will offer the prayer. Town Attorney, Paul Mitchell and Boy Scout Troop #101 will conduct a Bell Ceremony honoring Denton residents who died for their country and Reverend Blount will conclude the ceremony with a closing prayer. Everyone is invited to attend this service to honor our brave soldiers past and present.

"The brave die never, though they sleep in dust, their courage nerves a thousand living men." ~ Minot J. Savage
---
Memorial Day Service
Free Hot Dogs & Live Music

Join us as we celebrate Memorial Day at Central UMC Hut on Monday, May 29 beginning at 4:00 p.m.

There will be a memorial service along with music provided by Lanning Sisters. Free hot dogs, drink and dessert will be provided after the service. The event is sponsored by Barbara Hogan, Scott Morris and Andy Morris.