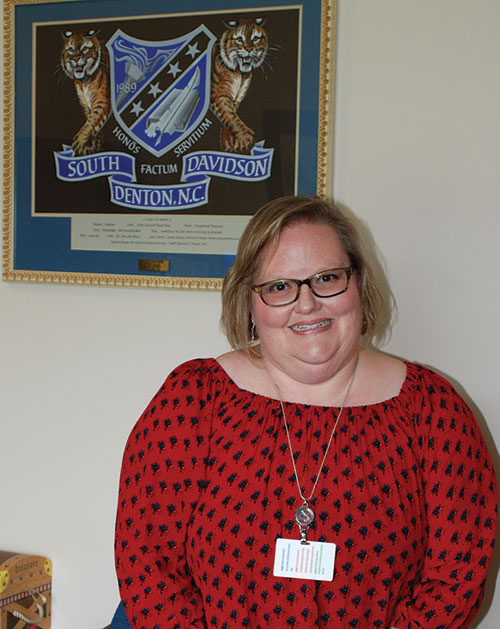 SDHS welcomes new Principal Brandy Reeder
Students & Teachers prepare for
Back to School

By Kelly Bledsoe
kellybledsoe@triad.rr.com
South Davidson High School welcomes Brandy Reeder as the new principal after Mike Lawson's retirement. Reeder comes to us from Ledford High School where she was the Assistant Principal for the past two years. Prior to that she worked as the Instructional Program Director for the county and for 16 years before that she was an elementary school teacher. She received her undergraduate and Masters degree from Western Carolina University and is currently attending WCU once again for her PHD.

Ms. Reeder knew the minute she set foot on the South Davidson campus…she was home. Her goal has been to become principal of a smaller school where she can truly get to know the students and their families. With just five days under her belt she is certain this is the place for her.

Ms. Reeder radiates a positive outlook and doesn't know a stranger. She hopes to get better acquainted with her staff and students over the next few weeks. Her door is always open and she welcomes everyone to stop by and discuss any issues or concerns. She is open to all ideas and her vision is to unite the school and community. "I strongly believe that relationships are the key to success and through collaboration we can improve the school culture and continue down the road of success."

Ms. Reeder compliments the staff in place at SDHS especially Assistant Principal, Rhonda Gallimore. She and Ms. Gallimore are working extremely hard to make South Davidson the place to be, creating an environment where students can get excited about learning.

Reeder comes from a small town herself and she is extremely happy to be in the South Davidson community. She is making new friends each day and looks forward to a very successful 2017-2018 school year. In her own words, "I am blessed and humbled to be a part of this community."

Freshman Orientation is scheduled for Tuesday, August 22 from 5:30-7:00pm. Teachers will begin work August 21 and the first day for students in Monday, August 28. Upperclassmen will receive their schedules this week and August 24 has been set as the date for schedule changes. An Open House for everyone is set for September 12 starting at 5:30pm.

SDMS Principal Crystal Sexton welcomes a few new staff members as well. Mr. Andrew Litten will join the SDMS team as the new Music teacher. Mr. Litten is a recent UNCG graduate with tremendous content knowledge and innovative ideas for the music program.

Michelle Timmons, former bus driver and substitute teacher for Denton Elementary School, will also join the team as the 6th grade Student Health Assistant. Mrs. Timmons is an active member of the Denton community with several years of experience with Davidson County Schools.

Finally, Kristie Little will be joining the team as Ms. Sexton's administrative intern. She is currently completing her masters in School Administration and will spend the school year learning more about school leadership.

Sixth grade orientation will be held August 24 at 6:30pm. Seventh and eighth grade students may pick up their schedules August 24 from 4:00pm-6:00pm. Supply lists can be found on the school website sms.davidson.k12.nc.us/.

At Silver Valley Elementary School Principal Christy Slate looks forward to another successful year. Supply lists can be found online or picked up in the school office. Meet the Teacher night is August 24 from 4-6pm. The theme of the 2017-2018 school year is "Oh, the places you'll go" ~going on adventures in Education. Staff additions and changes for this new adventure include Taylor Everhart in 3rd grade (she came in last year but not until December) who replaced Shannon James as the Lead Teacher; Wendy Younts in 4th grade - replaced Tina Yates; Levi Bruff in 5th grade; Heather Tysinger – PE; Annette Barbee will be a Part Time Math Specialist; and Terri Lyda will be a Teacher Assistant.

Ms. Slate reminds all parent that the school needs to have all updated addresses and phone numbers. Also, parents can complete the Free and Reduced Lunch Forms ASAP. If there are any Kindergarten students out there, they need to register as soon as possible.

Denton Elementary School also welcomes several new faces. Principal Dr. Kelsey Greer adds to her staff: Brittany Underwood - 5th Grade Teacher; Karen Leonard, Reading Specialist; Abigail Barnes, EC Teacher; Alexandra Marion, 3rd Grade Teacher; Trevor Nanney, EC Teacher; Carson Oxendine, Teacher Assistant; Marissa Russell, Office Assistant; Michelle Stanley, Teacher Assistant; and Starr Tysinger, Teacher Assistant.

Open House for 1st-5th grade students will be on Thursday, August 24 from 4-6pm. Please stop by to meet your teacher and drop off supplies!

Kindergarten 'Meet The Teacher' will be on Monday, August 28. Parents are invited to bring their kindergarten students from either 9-10am or 1-2pm to meet the teacher and drop off supplies.

Good luck to all the new teachers, faculty, and students. May this be a wonderful and exciting learning adventure!
---
The Denton Lions Club will be hosting their 8th Annual Charity Golf Tournament fundraiser on Monday, August 28, 2017, at McCanless Golf Club, 3515 Stokes Ferry Road, Salisbury, NC 28146.

The tournament will be Captain's Choice, four-man teams at $200.00 per team (with individuals signing up for $50.00 each and paired with other singles prior to play). $10.00 from each player's registration fee will go into a cash pot and will be divided 50% for 1st place, 30% for 2nd place, and 20% for 3rd place. There will be a $50.00 prize for the Closest to Pin on Hole #3 and a $50.00 prize for the Longest Drive on Hole #18. Players may purchase two red tees and two mulligans for $20.00.

A hotdog lunch, with all the fixings, will be served at the end of play.

Hole sponsorships are available for $100.00. Sponsor signs will be prominently displayed during the golf tournament and the following two Denton Lions Club Shrimp Boils.

All proceeds from the tournament will benefit Denton Lions Club charities. Your participation generates the funds we need to carry on our work for the Visually-Impaired and other worthwhile projects within our community.

Please contact Lion Randall King at (336) 870-3081 or email kingrandall@hotmail.com if you need additional information.