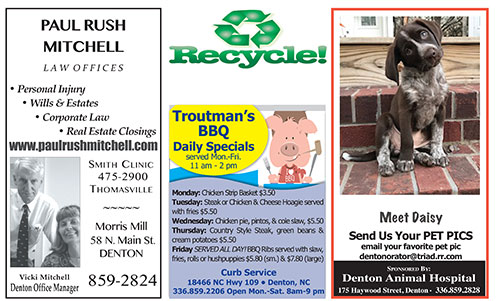 5th Annual Dog Days in Harrison Park

By Kelly Bledsoe
kellybledsoe@triad.rr.com
Come strut your stuff, and your mutt! The 5th Annual Dog Days in the Park and Pet Parade, sponsored by Denton Animal Hospital, Rolling Meadows Dog Academy and The Town of Denton Parks and Recreation is scheduled for Saturday, September 23 from 10-12. The festival is a one-day event celebrating and supporting our four-legged friends and their owners. It will feature an exciting array of dog demonstrations sponsored by Rolling Meadows Academy of Dog Training, as well as a Pet Parade, in addition to the Blesssing of the Animals by local clergy.

There will also be the ever-popular Best Trick Contest and Dog/Owner Look-a-Like Contest, Musical Sit, Best Costume, Biggest/Smallest, Oldest/Youngest, Best Human Bark, and ending with a Wet T-Shirt contest! Prizes will be awarded to the winning pets.

In addition, pet owners will be treated to a variety of booths and activities to pamper their pets, including K9 Portraits, Doggie Snacks, Music and more!

Admission is free so come out and play with your four footed furry friend. The activities will begin at 10:00am with the Blessing of the Animals followed by the Pet Parade at 10:30. Games and activities will follow and end at NOON. All dogs must have proof of current rabies vaccination. Owners can preregister their pets by emailing dah2006fb@gmail.com. You may also register your dog the day of the event starting at 9:30am.

If you have question or for more information call Denton Animal Hospital at 859-2828 or The Denton Town Hall at 859- 4231. We hope you and your dog enjoy the day with us!
---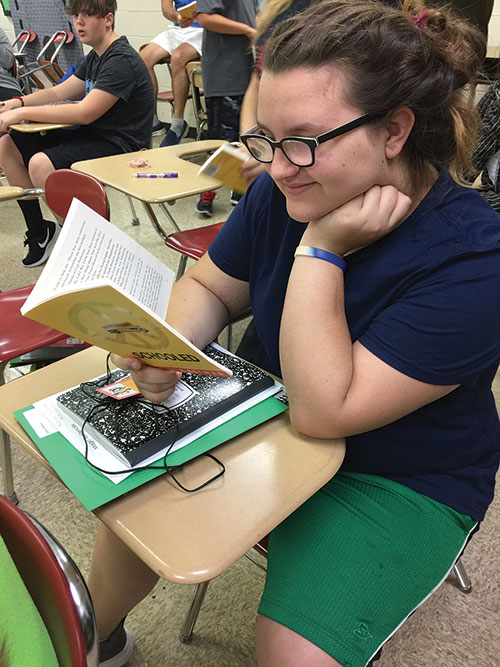 By Kelly Bledsoe
kellybledsoe@triad.rr.com
Imagine 100+ students and teachers reading one book simultaneously. At South Davidson Middle School that is exactly what is going on through a project called "One Book, One School." The idea was formed last spring when SLMC Mary Howell wanted to help build a reading culture among staff and students. The idea was simple: build a love of reading and community through one shared novel.

Principal Crystal Sexton quickly bought into the idea and began exploring opportunities to make this happen at her school. Thanks to a generous donation from Pit Stops for Hope, every student and faculty member received their very own copy of Gordon Korman's "Schooled."

The book's main character, Capricorn Cap Anderso, has lived on a farm commune and has been home-schooled by his hippie grandmother, Rain. When Rain breaks her hip in a fall from a tree and is hospitalized, Cap is forced to attend the local middle school. Although he knows a lot about Zen Buddhism, nothing has prepared him for the politics of public school, where students take advantage of his naivety.

This book was chosen because it relates to middle school students, what they are going through and what they worry about. Hopefully, one of the benefits of reading this book together will be open conversation about the characters and how they correlate to the lives of students at SDMS.

Six grader Mason West is excited about the concept. "I like to read," he said, "I think it's a good idea for all of us to read the same book because then we will be able to talk about it together." He looks forward to the activities planned such as the trivia challenges.

The ultimate goal is to get students hooked on one book, which will hopefully lead to another, and another and into a lifetime of reading.

Sixth graders Shannon Parks and Eli Hulin both agree that reading the book together is a great idea. Eli believes that the book will help students at South understand the difficulties of middle school years and shared conversations will help alleviate some of the stress students encounter. Shannon Parks hopes the book will enlighten students to the cruelty of bullying and make students at SDMS more aware and compassionate of others feelings.

To build excitement, a school wide pep rally was held. Students were able to preview the title through digital book talks. Celebrations will continue through the end of October culminating in a Halloween Dance as featured in the text. Each week, students will enjoy themed activities such as trivia contest, RAK day (Random Acts of Kindness), special dress up days, and tie-dying shirts. Students are encouraged to read whenever they can, at home, at school, during lunch, and during free time.
Ms. Sexton truly hopes this project will foster a love of reading for her students and common conversation will establish a unified school environment.