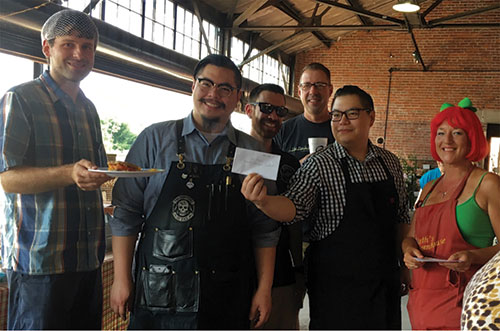 Tomato Madness
The Lexington Farmers Market will hold their annual Tomato Madness event on Saturday, July 22, 2017. The market is excited to announce a new addition to all the usual activities: the "Bloody Mary Recipe Contest". This will be in addition to the "Tomato Recipe Contest.

The schedule of activities will be as follows:
Tomato Recipe Contest 9:30 am: Entries must be homemade and use fresh tomatoes as an ingredient. Prepared dishes should be large enough for at least 6 taste samples. Typed or handwritten recipes should be brought with the entry and entrant must be willing for his or her recipe to be shared. Winners will be determined by a panel of 3 judges, Chef Daniel Huynh of Shoto's, Chef John Wilson of Sophie's Cork and Ale, and foodie Jeff Miller of The Backyard Retreat. A first place prize of $40 cash will be awarded to the winner. Second place will receive $25.

Bloody Mary Recipe Contest 10 am: Entries must use fresh tomatoes as one of the ingredients. Entries and recipes should be brought to the market by 10 am. This contest will be judged by mixologist extraordinaire Jimmy Huynh, aka Jimmy the Bartender of Shoto's. The winner will receive $40 cash.

Balloon Sculpting 9:30 to 11 am: Ryan Short of Ryan Short Entertainment will be there creating and handing out his whimsical balloon art.

Live Music 10 am: Davis Tucker and the wonderful Shannon will be performing live. This will be their fourth year entertaining audiences at the Tomato Madness Event. He even wrote a special tomato song for the event.

Tomato Toss 11 am: Always a highlight of the event, kids and adults can sign up in teams of 2 to compete in the tomato toss, where overripe tomatoes are tossed by one partner to the other who attempts to catch them in a bucket. Aprons are provided. The winner of the tomato toss only walks away with bragging rights but a good time is had by all.

Raffle Drawing at 12 noon: $1 raffle tickets will be available for purchase throughout the morning for a chance to win a large basket filled with all the different flavors of the market generously donated by the market vendors. You do not have to be present to win.

The Lexington Farmers Market is located at the Old Depot on Railroad Street across from Southern Lunch Restaurant. The market is open every Saturday through mid-October, 8 am to 1 pm. For more info visit their Facebook page or website www.lexingtonfarmersmarketnc.com.