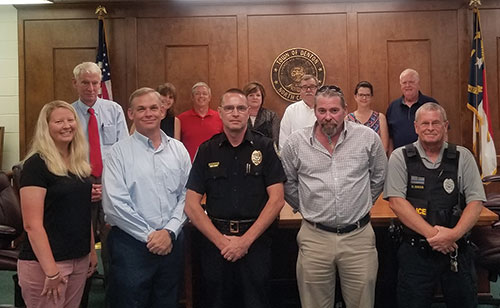 Town Recognizes Employee Service Milestones
At the last Board of Commissioner meeting town employees were honored for service milestones with the Town:

Pubic Works Director Michael High – 25 Years
Police Chief Mark Hicks – 25 Years
Waste Water Plant Director Troy Branch – 15 Years
Water Plant Director Heather Hicks – 5 Years
Officer Donnie Inman – 5 Years

The most important asset the Town has is not buildings, equipment, technology or tools. It is the dedicated group of people who work here. These service milestones represent a significant investment of time, energy and commitment on the part of staff and an equally important investment of training, development and compensation from the Town.

The Mayor and Commissioners expressed their appreciation for the service our dedicated and talented staff provide the citizens of Denton every day. A short reception after the meeting was well attended by the public, family members, the board and staff.