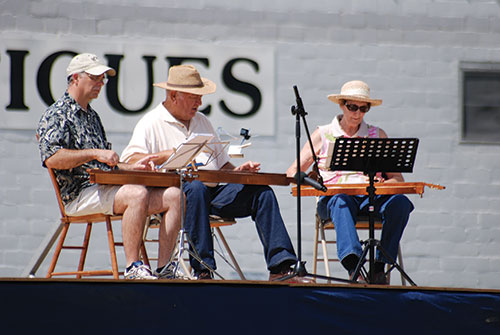 Denton Street Festival Coming Soon!

By Kelly Bledsoe
kellybledsoe@triad.rr.com
Small towns are known for their sense of community. Your neighbors are a group of friends you can celebrate with: Independence Day fireworks, block parties, joyful graduation celebrations, and fall festivals. Denton, NC is just such a small town celebrating the unique traditions and occurrences that make this community special.

Each fall the town of Denton celebrates with the annual Denton Street Festival. The festival is filled with wonderful arts and crafts, your favorite festival foods, community based civic groups handing out information on things you can get involved with, music, entertainment, and dancing in the park.

Town of Denton organizers of the event, Angel Jenkins, Robin Garrison and Genie Russell are excited about this years line up of events. The fantastic Eric and the Chill Tones will offer a live performance on the Evelyn L. Gallimore Pavilion stage in Harrison Park from 12:00 p.m. until 3:00p.m. Various other acts will take the local stage from 11am-12:00pm and Denton's own local talent will be performing as well.

Children will be delighted by activities just for them. New this year is the Amazi'N Blazi'N Fire Truck that offers rides in a real firetruck, Bella Express the trackless train, and a horse drawn wagon will also be offering rides to festivalgoers. There will be a rock climbing wall, and many other activities available for the kids. This is the perfect family event, which is sure to leave you delighted by small town life.

The 2017 Denton Street Festival is set for all day Saturday, September 9 from 9:00 a.m. – 3:00 p.m. (Rain or Shine). The event takes place in the heart of historic downtown Denton encompassing the beautiful Harrison Park. Come out Saturday and enjoy a fun day in downtown Denton. For more information on the festival, visit the Town of Denton's website at www.townofdenton.com or call 336-859-4231.

This years sponsors of the event are First Bank, O.P.E. of America Inc., Novant Health, Century Hosiery, Inc., and the Town of Denton.