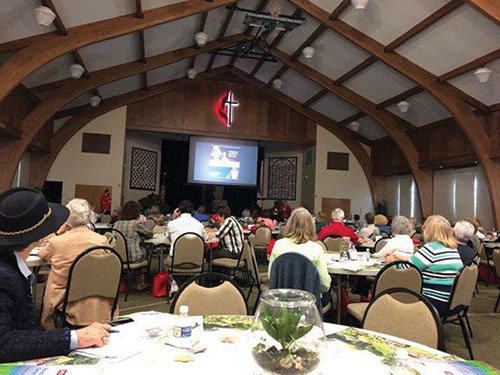 Davidson County Master Gardener annual Gardeners' Conference

Davidson County Master Gardener volunteers held their eighth annual Gardeners' Conference on February 7th of this year. Two hundred participants are registered each year, and this year gardeners from 15 different counties of NC were in attendance. In addition, there were visitors from Virginia and Tennessee.

The morning speaker for this year's conference was Adrienne Roethling and the afternoon presenter was Pam Beck. Additionally, there were 5 concurrent speakers from which participants could choose two sessions of interest. Vendors sold a variety of unique products including plants, yard art, and other kinds of artwork. Great snacks, contributed by members, were available for the various breaks and lunch was a catered buffet.
Ruth Mitcham was coordinator of the conference committee and Kathy Sill made terrariums for each table, which were then used as door prizes. Members donated door prizes as did some local garden related businesses. Three MGV members were also vendors.

The annual conference is designed as an educational outreach to the general gardening public as well as EMGVs. This year there were at least 60 people who attended for the first time.

The next event for the DCEMGVA will be a garden tour held on June 1-2, 2019. This year's tour will include gardens in the Beck's Church Road area. More information on this will be presented on FB: Davidson County Extension Master Gardener Volunteers and on the Davidson County Extension website.