---
---
Clear Spring United Methodist Church
Clear Springs United Methodist Church located at 4321 S Main St., Ext, Denton, NC is now open for inside worship at 9:30 a.m. Worshipers should wear a mask and sit in the pews as marked for social distancing by families. Temperature taking by non-touch method is available, but not required.

Clear Springs United Methodist Church
Clear Springs United Methodist Church will celebrate their homecoming on August 16 with an 11 a.m. service. Our new pastor, Doc Warner, will be the speaker. Everyone is asked to bring their own lawn chair since the service will have to be outside, weather permitting. Worshiper are asked to set their chairs so that there will be at least six feet of social distancing between families as well as to wear a mask. Free masks will be available for anyone who does not have one or forgets to bring it. In case of rain or extremely hot weather some will be seated according to marked pews in the sanctuary with others in the fellowship hall where the trustees will set chairs for social distancing.
During the service Christopher Parish will share memories with us. Christopher built the Veteran's memorial between the church building and the Clear Spring Community cemetery for his Eagle Scout project during the summer or 2015 with the first flag raising at the homecoming that August. Michelle Surratt will honor those who have passed on during the past year. Our lay leader, Jennifer Barraclough, will welcome all to the service, share the Calling of the Apostles to let everyone know where we are in our Christin Journey as a congregation, and lead the traditional procession to the cemetery.

Free Gospel Concert
Pleasant Grove, Piney Grove, and Cid United Methodist Churches, along with South Davidson Missional Network, are sponsoring a free outdoor concert featuring Strings of Victory on Sunday, August 16h at 6:00pm in Pleasant Grove UMC parking lot. Pleasant Gove is located at 8138 E. Old Hwy 64, Lexington at the Davidson/Randolph county line (GPS: 475 Haltom Rd. Lexington, NC). All donations will help local Davidson County Schools and youth. You may remain in your car, or you can bring a lawn chair and observe social distancing.


Pleasant Grove UMC
Pleasant Grove UMC (Loftin Road) will hold its annual homecoming and revival services Sunday through Wednesday, August 23 - 26. Homecoming service will be on Sunday at 11:00 AM with our Pastor Richard Gould in charge of the service. There will be no luncheon following the service.
Revival services beginning at 7:00 PM each evening are as follows:
Sunday. Speaker: Brett Chappell Music: Karen Miller
Monday. Speaker: Rev. Derald Smith Music: Tonja Robbins
Tuesday. Speaker: Rev. Michael Jernigan Music: Tony Corner
Wednesday. Speaker: Brett Chappell Music: Tonja Robbins
Edith Chappell
Mrs. Edith Craver Chappell, age 86 formerly of Denton died Thursday, August 6 at Pine Ridge Health and Rehab in Thomasville.
A funeral service was held at 2:00 PM Tuesday, August 11 at First Baptist Church conducted by Rev. Scott Davis and Preacher Brett Chappell. Burial followed at Mountain View Memorial Gardens.
The family saw friends from 1:00 until 2:00 PM Tuesday at First Baptist Church.
Mrs. Chappell was born June 24, 1934 in Davidson County to Jesse L. Craver and Blanche Yates Craver. She was a member of First Baptist Church and a retired teachers assistant at Denton Elementary School. She was married to Leo C. Chappell who died in 1976. She was also preceded in death by her parents and by a brother Buddy Craver.
She is survived by a son, Randy Chappell of Denton; a daughter Tami Cookenboo of Van Couver, Canada; 2 grandchildren, and 3 great grandchildren.
Memorials may be made to First Baptist Church Day Care, PO Box 515, Denton, NC 27239
Briggs Funeral Home is serving the Chappell Family.
Online Condolences may be made at www.briggsfuneralhome.com

Jay Buie
Mr. Jay Buren Buie, 88, a resident on Ken Dan St., High Point, NC passed away on Wednesday, August 05, 2020 at his residence.
Due to Covid-19 restrictions a private family graveside service was held at 2:00 PM on Friday at Mountain View Memorial Gardens with Rev. Marcus Campbell officiating.
Mr. Buie laid in state on Thursday from 2:00 pm to 5:00 pm and on Friday from 9:00 am to 12:00 pm at Briggs Funeral Home in Denton.
Jay was born October 7, 1931 in Davidson County to Jeff Buie and Elizabeth Morton Buie. He was a 1950 graduate of Denton High School and was a member of Conrad Memorial Baptist Church. Mr. Buie served in the United States Navy during the Korean Conflict. He worked for Fli-back and retired from 3M Corporation. Some of Jay's special interests included bee keeping, making molasses, forestry, and land conservation. To those who knew him Jay was known as a jack of all trades, he could fix almost anything. In addition to his parents he was also preceded in death by his brother, Carl Buie.
He is survived by his wife, Margaret Hedrick Buie of the home whom he married on August 11, 1956; daughters, Susan B. Parrish and husband Billy and Julia B. Everhart and husband Eric all of High Point; sister, Betty Buie Cook and husband Ralph of Lexington; sister-in-law, Sallie Buie of Denton; 5 grandchildren; Derek Parrish (Tara), Aaron Parrish (Martha), Brett Parrish (Madison), Meg Everhart, and Jake Everhart; 6 great-grandchildren, Liam, Carson, Bradford, Dottie, Ollie, and Raegan Parrish.
The family would like to extend a special thanks to Shannon Stokes for the wonderful care given to Mr. Buie.
Memorials can be made to Conrad Memorial Baptist Church or to Hospice of the Piedmont.
Online Condolences may be made at www.briggsfuneralhome.com

Jimmy Hunt
Mr. Jimmy Wayne Hunt, 72, of Cunningham Road, passed away on August 3, 2020 at Lexington Health Care.
Jimmy was born on October 21, 1947 to the late Willie Henry Hunt and Betty Cairrikier Hunt in Davidson County. He married Judy Kay Embler, on October 14, 1979. He worked as a corrections officer for the State of NC. Jimmy loved to watch sports of all types and NASCAR. In addition to his parents, he was preceded in death by his wife, Judy Embler Hunt on May 17, 2020; four sisters, Laurastine Hunt, Helen Gallimore, Lola Hoover, Maxine Kindley.
Surviving are his two sisters, Barbara Burton and husband Hillis of Thomasville, Ruth Ann Hall and husband Carl of Asheboro; two special little friends, Hayden Brown, Juliette Brown; several nieces and nephews.
A graveside entombment service was held on Saturday, August 8, 2020 at 11:00 AM at Holly Hill Memorial Park Mausoleum with Rev. Robert Black and Rev. Tim Burton officiating. The family greeted friends prior to the service at the J.C. Green and Sons funeral home in Thomasville from 10:00 to 10:45 AM. Online condolence may be given to the family at www.jcgreenandsons.com.

Peggy Holbrook
Peggy Marie Barber Holbrook, 82, of Lexington, died Friday, August 7, 2020 at her daughter's residence. Funeral Services will be private.
Mrs. Holbrook laid in state from 1 to 3 PM Sunday at Briggs Funeral Home in Denton, and the family received friends at other times at the home of her daughter, Peggy Stone on Hill Rd., Lexington.
Born in Cumberland County on June 26, 1938, she was the daughter of Rev. John Benjamin and Margaret Reynolds Dow. She was the owner/operator of Marie Barber's Flower and Gifts in Lexington. She was preceded in death by her husbands, Donald David Barber and Paul Hardin Holbrook and a daughter, Betty Diane Gallimore.
Mrs. Holbrook is survived by a daughter, Peggy Stone of Lexington; 3 sons, John Barber of Granite Quarry, Jessie Barber of Oliver Springs TN, and Roy Barber of Lexington; sister, Judy Rosenbaum of Denton; 20 Grandchildren; 24 Great-grandchildren; multiple Great-great-grandchildren.
In lieu of flowers, Memorials may be made to Meals on Wheels, PO Box 1697, Lexington NC 27293.
Briggs Funeral Home of Denton is in charge of arrangements.
Online Condolences may be made at www.briggsfuneralhome.com

Ramona Cranford
Ramona Mitchell Cranford passed away August 4, 2020 at Piedmont Crossing Retirement Community. She was a lifelong resident of Thomasville, the daughter of Raymond I. Boaz of Patrick County, VA and Ruby Lee Everhart of Thomasville. On November 22, 1951 she married Joe F. Mitchell of Denton, and they became proud parents of four children. Her sons John Raymond Mitchell and James Franklin Mitchell preceded her in death. Her children Paul Rush Mitchell and Martha Mitchell Adams remained devoted to her through her life.
Ramona was born into First Baptist Church of Thomasville and a faithful member, raising her family there. During her second marriage to Keith O. Cranford of Denton and Greensboro, they moved their church memberships to First Presbyterian Church of Thomasville, where she served as an Elder. The mother of three Eagle Scouts and the grandmother of three more, Ramona was also actively involved with Boy Scout Troop 121 of Memorial United Methodist Church in Thomasville.
She lived a long, full 90 years and delighted in many friendships. However, she was from first to last the mother of her family and cherished them all.
Ramona was deeply involved with numerous interests and pursuits including dedicated service to church, community, local schools and their sports teams. She co- founded The Thomasville Beautification Committee and was a member of the Hospice of Davidson County board many years. Also, she was an early supporter of the Aids Task Force of Winston Salem, which served five western NC counties in the 1980s and 90s.
An avid follower of politics, Ramona was the first woman elected to the Thomasville City Council in 1985 and remained interested in local government until her death.
She stayed close to her childhood "DDT" girlfriends her entire life, helped organize and enjoyed her Thomasville High School 1948 class reunions until recently.
Ramona was a proud THS Bulldog, cheering on baseball and football teams at games into her 80s. She attended Woman's College, now UNC Greensboro, where she discovered bridge, then played with her Thomasville bridge club for 60+ years. As a staunch supporter of the NC State University Wolfpack, she loved attending games and wore her Wolfpack jewelry and clothing often.
Born with a head for figures, Ramona began her working career at a local bank, then was Office Manager of Maurice Hosiery Mills (later Hosiery Associates) for many years. She found her true calling as Office and Business Manager for Thomasville Medical Associates, helping build the practice over decades. In later years she was bookkeeper and Office Manager for her son Paul Mitchell's law office in Thomasville.
Ramona reveled in hosting parties and dinners as well as time spent with family and friends at the lake and beach. Her warm hospitality made sure her children and their friends gathered at her home growing up and as adults. She played piano, relished travel, was stylish, an excellent seamstress and teased everyone. Her father nicknamed her Monkey, which closest friends and family still call her.
Surviving family includes son Paul and wife Vicki Blackley Mitchell of Denton; daughter Martha and husband Andrew Wilson (Bill) Adams of Burlington; grandchildren Kacie Leigh Mitchell and Joseph Cole Mitchell of Huntsville, Texas (John Raymond); Raleigh Rutherford Haynes Adams and Elizabeth Boaz Love Adams of Raleigh (Martha); Joe F. Mitchell of Asheville, John Blackley Mitchell and wife Meredith Rymer Mitchell of Hendersonville and William (Will) Stephen Mitchell of Durango, Colorado (Paul); great-granddaughters Ava Mitchell and Cate Mitchell (John and Meredith Mitchell) and step son Gregory Keith Cranford of New York.
The family is grateful to all who cared for Ramona, particularly her encouraging friends in the Rehab, Skilled Nursing household and staff at Piedmont Crossing plus her dedicated aide Lisa.
A family graveside service will be held on Saturday, August 15th at Lick Creek Baptist Church with a celebration of life on a later date. JC Green & Sons is handling arrangements.
In lieu of flowers, memorial contributions are suggested to First Presbyterian Church, 21 Randolph St., Thomasville or Hospice of Davidson County, 200 Hospice Way, Lexington, NC 27292.
undefined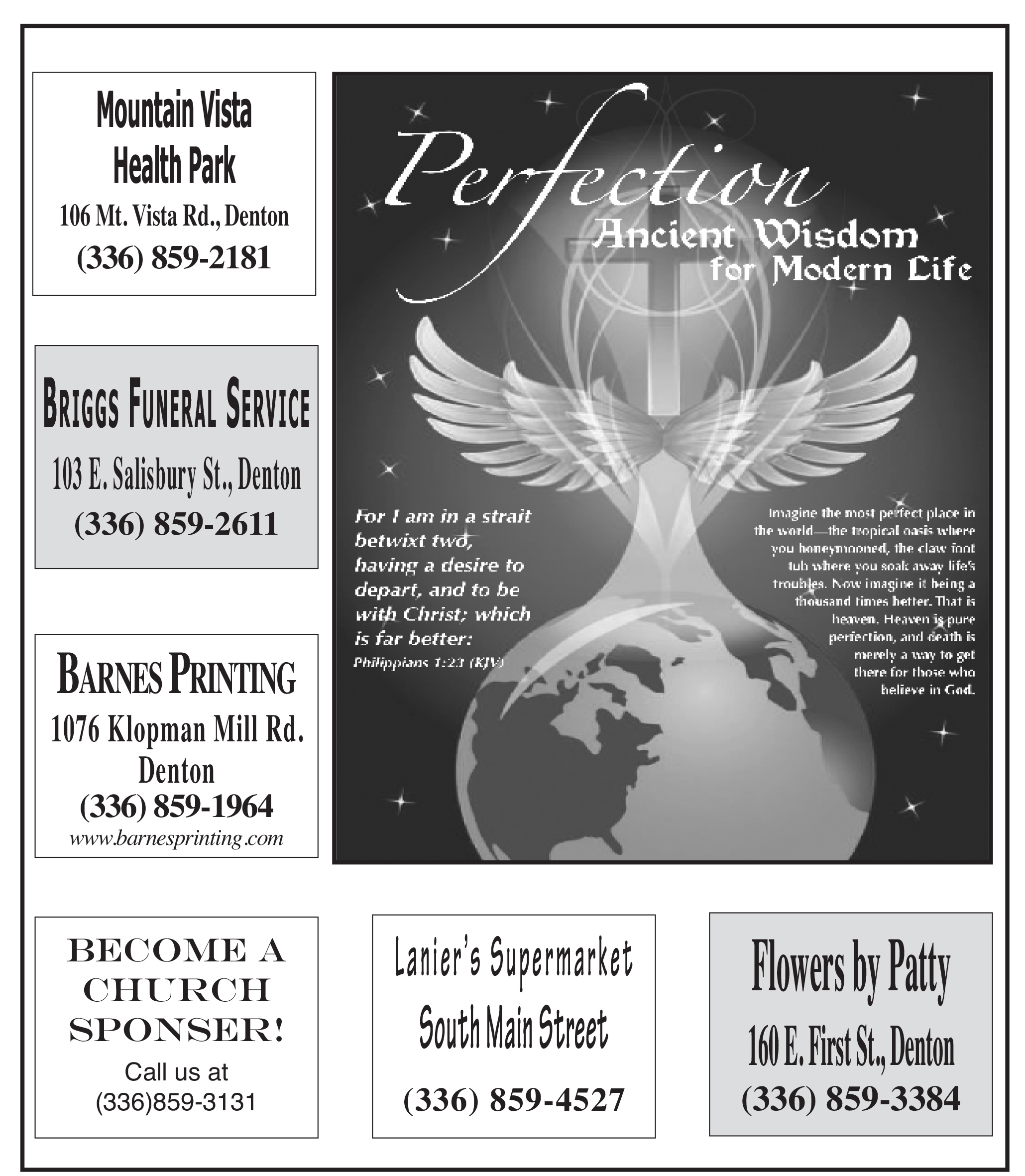 undefined