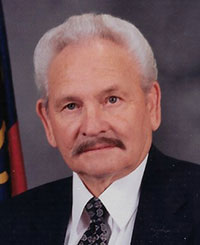 Richard Hughes
Mr. Charles Richard Hughes, 83, a lifelong resident of the Tabernacle community, passed away peacefully on Thursday, Aug. 8, 2019, at Hinkle Hospice House in Lexington.
Funeral services were held Sunday, Aug. 11, at Westfield Baptist Church, where he was a member, with the Rev. Garry Reeder officiating. Burial followed in the church cemetery.
Mr. Hughes was born on Sept. 25, 1935, to Charles Ross and Mary Alice Hughes. He was a 1956 graduate of Farmer High School. He served the citizens of Randolph County as a sheriff's deputy and detective for 30 years, serving under the administrations of sheriffs Lloyd Brown, Robert Mason and Litchard Hurley. He retired in 2000 as captain of the investigative division.

As a proud member of the Randolph County Republican Party, he was a past precinct chairman of Tabernacle township and an active campaigner in local elections.
Mr. Hughes was also involved in the auction business, running Tabernacle Auction Company with his brother, Ed, and later assisting his two sons with Richie Hughes Auction & Real Estate.
In his retirement, he restored antique Massey Ferguson tractors, which he enjoyed showing off each July at the Threshers' Reunion at Denton FarmPark and at the fall tractor parade in downtown Asheboro.

Mr. Hughes had many talents, including carpentry and bricklaying, and he took pride in hard work. He could often be found on the Hughes farm — where he lived his entire 83 years — sawing lumber at his sawmill, raising a bumper crop of produce in his garden or driving a tractor in the hayfield.
Known for his competitive spirit and lifelong love of baseball, he played for Farmer High School, the American Legion and Randolph County League teams, and he once tried out for the Cincinnati Reds. He coached several Tabernacle Pony League teams and later continued coaching from the sidelines during his children's and grandchildren's games.

In addition to his parents, Mr. Hughes was preceded in death by brothers Eugene, Ralph and Ed Hughes, and sister, Margaret Hughes Kinney.
He is survived by his wife of 60 years, Patricia Adams Hughes, of the home; children Jeff Hughes and wife, Sharon, of Jackson Creek, Lisa H. Thompson and husband, Phillip, Richie Hughes and wife, Kelly, and Zac Hughes and wife, Kirsty, all of Tabernacle; grandchildren Leah, Hannah, Charlotte, Hayden and Isabelle Hughes; and several nieces and nephews.

The family received friends Saturday, Aug. 10, at Ridge Funeral Home in Asheboro and other times at the home.
The family would like to thank the staff of Hinkle Hospice House in Lexington for their care and support, and they ask that memorial donations be directed to Hospice of Davidson County, 200 Hospice Way, Lexington, NC 27292.
Condolences may be made online at www.ridgefuneralhome.com.

Kenny Walker
Mr. Kenneth Harold (Kenny) Walker, age 70 of Denton died Thursday, August 8 at Mountain Vista Health Park.

A funeral was held on Monday, August 12 at Briggs Funeral Home Memorial Chapel conducted by Rev. Sandy Young and Rev. Derald Smith. Burial will followed at Clear Springs United Methodist Church Cemetery.
The family received friends from 12:30 to 1:30 Monday at Briggs Funeral Home and other times at the residence of the sister Hazel Garner on Old Camp Road.

Mr. Walker was born October 9, 1948 in Davidson County to Isaac Daniel Walker and Alice Garner Walker. He had attended the Children Center and had worked at the Sheltered Workshop. He attended Siloam United Methodist Church. He was preceded in death by his parents, brothers Bobby Dan Walker, and Larry Eugene Walker, sisters, Kathleen Garner and Linda Berrier.

He is survived by a brother, David Walker of Denton; sisters, Pauline Coltrane of Tennessee, Hazel Garner, Imogene Morris and Joann Bean all of Denton.
Memorials may be made to Mountain Vista Health Park, PO 1547, Denton, NC 27239 or Siloam United Methodist Church, c/o Linda Markham, PO Box 414, Denton, NC 27239.

Mark Alcala
Mark Alcala passed away July 25, 2019 at Forsyth Hospital after a short illness. He was a long haul truck driver for 30 years.

He is survived by wife Debra Alcala and two sons John and Aaron Alcala of Denton. A sister Deborah Axell of Texas; Steve Alcala of Idaho and brothers David Alcala of Albemarle, Billy Beam of Denton and Jimmy Beam of Silver Valley.

Ann Carrick Surratt
Mrs. Annie (Ann) Carrick Surratt, 80, of Wilmington died Friday, August 2, 2019 at New Hanover Regional Medical Center.

Mrs. Surratt who was a beloved Mother and Grandmother, was born January 4, 1939 in Davidson County to Clay Carrick and Lena Tysinger Carrick. She was a graduate of Southmont High School and attended Campbell College. She worked for many years as a bookkeeper then retired from Sears after 17 years of service. She is a devoted Christian and was a member of the Queen Bees Ladies Fellowship group.

She was married to Tony Surratt Sr. who preceded her in death. She was also preceded in death by her parents, brother Howard Carrick, and a sister Katy Palmer.

She is survived by son, Tony Surratt, Jr. of Topsail, NC and Scott Surratt of Wilmington, NC. She also leaves behind four grandchildren as well as brothers, Mallory Carrick (Ruby) and Max Carrick (Libby) all of Lexington; sister-in-law, Connie Carrick of Denton.
A funeral service was held on Friday, August 9 at Cornerstone Baptist Church conducted by Rev. C. Herb McCarthy and Rev. Daniel Gillespie. Burial followed in Oleander Memorial Gardens Cemetery.
The family received friends at Cornerstone Baptist Church and returned there for a reception following the graveside service.

Aster Rider
Mr. Aster Ray Rider, Sr. age 95 of East Old Highway 64 (Silver Valley Community), Lexington, NC died Monday, July 29 at Kate B. Reynolds Hospice Home in Winston-Salem.

A funeral service was held on Friday, August 2 at Cid United Methodist Church conducted by Rev. Scott Davis and Rev. Doug Rowe. Burial with military honors followed in the Church Cemetery.
The family received friends at Briggs Funeral Home in Denton and will see friends at other times at the residence.

Mr. Rider was born December 25, 1923 in Davidson County to Robert Harrison Rider and Adline Snider Rider. He was a member of Cid United Methodist Church. He was a World War II veteran of the U S Army where he received the Bronze Star and Purple Star. Mr. Rider was awarded tine French Legion of Honor Medal for his service in Northern France during the Second World War. He had worked as a Carving Supervisor in several furniture manufacturing plants including Commercial Carvers and Globe Furniture, a division of Burlington Industry. He was preceded in death by brothers, Lee Rider, A. G. Rider and Carl Rider; by sisters, Mattie Leonard, Bertha Webb and Edith Gallimore and by a grandchild.

He is survived by his wife Velna Summey Rider of the home; a daughter Ronda Holmes and husband Paul of Trinity and a son, Aster R (Sonny) Rider, Jr. of Lexington; and 2 grandchildren.
Memorials may be made to the Donor's Choice
Online condolences may be made at www.briggsfuneralhome.com.

AREA CHURCH NEWS
Clear Springs Church Annual Homecoming Service
On Sunday, August 18th at 10:30am Clear Springs Church will host the annual Homecoming Service. Rev. Angela Barr Hollar will serve as guest speaker. Special music will be provided by the Smith Family and The Southbound Pickers.
Please join us as we celebrate 60 years of ministry to the Denton Community. A covered dish lunch will follow in the church fellowship hall. The church is located at 4321 South Main Street Extension in Denton.For more information please call Pastor Scott Davis at (336) 460-0831.

Pleasant Grove UMC annual Homecoming/Revival
Pleasant Grove UMC (Loftin Rd.) will host its annual Homecoming/Revival services from Sunday, August 25 through Wednesday, August 28, with all evening services beginning at 7:00 PM. The Homecoming service on Sunday will be held during our regular preaching hour at 11:00 AM followed by a luncheon in the fellowship hall. Speakers for the revival include Rev. Michael Jernigan, Rev. Claudie Harrison, and Rev. Derald Smith. Special music will be provided by Tonja Robbins, Billy Myers, and Tony Corner. We invite everyone to attend all these services. Rev. Richard Gould is our pastor at Pleasant Grove.

Lights for Christ Revival
Lights For Christ Holiness Church will host a Revival August 26-30 at 7pm nightly. Reverend Alex Shelton of south Asheboro will be the guest speaker. Lights For Christ Holiness Church is located at 45 Newsome Avenue. For more information or question call Pastor Wendell Floyd at 336848-4191.

FAITH BAPTIST CHURCH FIFTIES CAFE & CRUISE-IN
Faith Baptist Church, 4518 Shiptontown Road, Denton will be having our 17th annual Fifties Cafe & cruise-in on Saturday, September 14th from 4pm until 7pm. Cars, trucks, motorcycles and tractors, all welcome. For more information call David at 336-798-1840. Bring your yard chairs and enjoy the cars, free music and free food.Donations will be appreciated. Please bring can food or non-perishable items for the Southmont Food Pantry.

Central UMC Homecoming
Central United Methodist Church will observe its annual Homecoming service on Sunday, August 25 at 11:00 in the church sanctuary. Rev. Joe Collins, a former CUMC pastor, will deliver the message. The choir will provide special music. After the worship hour, all will gather in the Fellowship Hut for a covered dish luncheon. Members of the community are cordially invited to join CUMC for worship, fellowship, and southern homecooking!